Male', Maldives – Auditor General's Office has said that it is highly alarming that Maldives is leaning too much on one specific country for income from grants for developmental projects in the upcoming year.
Speaking at the Parliament Committee reviewing the 2021 budget, Auditor General's Office told that the 3/4 of the income from grants was forecasted to be received from India and that this is highly risky due to the Covid-19 pandemic. While the government expects to receive MVR 2,226,539,752 as grants for the year 2021, MVR 1,730,271,572 out of the figure is forecasted to be received from the neighboring India.
Auditor General's Office also pointed out that on average only sixty one percent of the forecasted income from grants are received in their report of the 2021 budget. They also pointed out that while the whole worlds economy has been affected by the Covid-19 pandemic, that it was not sensible to expect other countries to provide such amounts as grants and that the situation is highly unpredictable.
AGO also pointed out that if anything happens to Indian economy, the first thing they would do was to stop all such grants and that this would impact the Maldivian economy.
They also advised the government to limit the spending based on the income of the state as the current expenditure and budgeted expenditure was higher than the income of the country.
AGO also highlighted that some of the new revenue measures which the government has proposed needed to have legislative backing through amending of the existing laws and guidelines, which otherwise cannot be implemented.
In addition to this, they also raised concerns of State Owned Enterprises (SOE's) depending too much on the government budget in their operations. AGO stated that MVR 1.3 Billion as capital was allocated for 18 SOE's as they depend too much on the state budget to pay their salaries and other day to day expenses of these companies.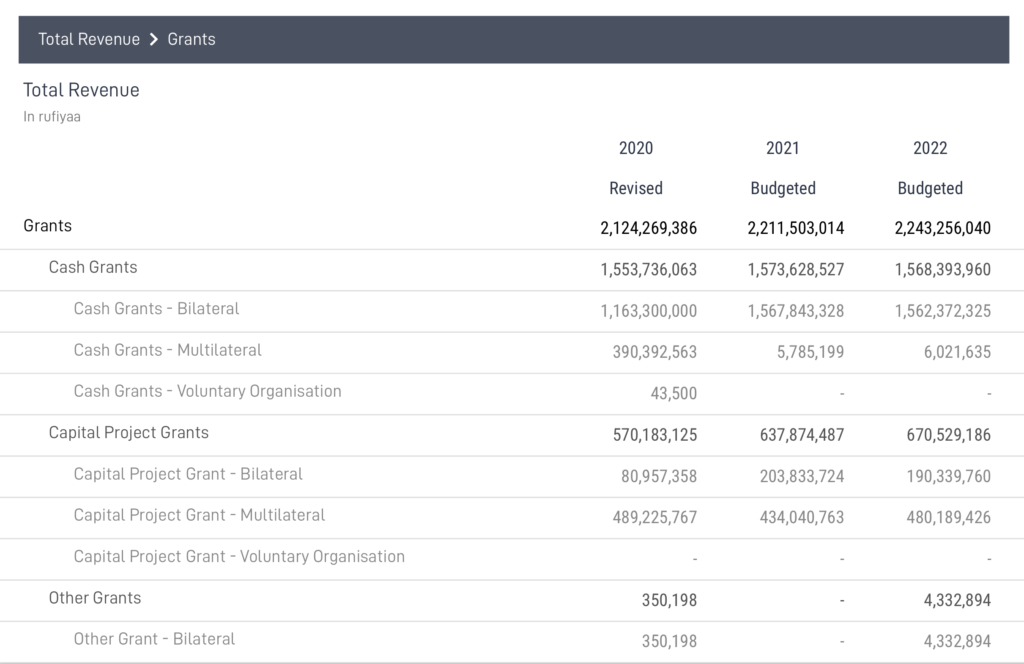 AGO advised the government to release capital to these companies based on sustainable guidelines through which the government can get profitable returns from the companies in the long run. They also advised that these companies to have their policies changed to achieve such goals.
Regarding the actual deficit increasing substantially higher than budgeted figures, AGO said that it was due to the lack of implementation of planned measures for new income sources and because the government not getting the forecasted amounts in grants. AGO told that such planned new income streams needed to be properly planned beforehand and have proper mechanisms put in place to monitor those. In addition to this, AGO also recommended to put in place ways to hold those responsible for such plans accountable.
In addition to this, AGO also pointed out that the government must lower its expenditure and increase the revenue generation. AGO also recommended to hold discussions with international monetary organizations and banks to find ways to lessen the burden of loan repayments in the upcoming year.
According to the proposed state budget for 2021, the government would get grants from Netherlands, Abu Dhabi, Netherlands, Saudi Arabia, Denmark, Pakistan and China in addition to India. As per the budget, MVR 20 million is expected to be received from China, MVR 50 million from Abu Dhabi fund, MVR 5.8 million from Saudi Arabia and MVR 1 million from Pakistan is forecasted to be received as grants.
In addition to this, the government has also budgeted MVR 404 million as income from grants from different international organizations. This includes MVR 153 million from ADB, MVR 100,000 from IUTL, MVR 211 million from World Bank, MVR 1.1 million from WHO, MVR 4 million from UNICEF, MVR 12.3 million from UNFCC, MVR 5 million from UNDP, MVR 15 million from individual parties and MVR 1.8 million from IFAD.
Ministry of Finance had told that the income from grants forecasted for 2021 is 21.1 percent more than the current year as the grant income for projects planned for the next year is higher. The main percentage of grant income is from the Indian grant for the Greater Male' Connectivity bridge project. In addition to this the government is also expecting international multilateral agency's to provide grants for waste management projects. Finance Ministry had also told that they would be working to get USD 100 million in additional grants next year.
According to the government the proposed MVR 34.8 Billion budget for 2021 is planned and set to be in accordance with the implementation of the "National Resilience and Recover 2020-2022" plan which was made to boost the economy from the fateful consequences of Covid-19.
It is estimated that the government would receive MVR 17.8 billion as revenue and grants in 2021, of which tax revenue constitutes the major item while the estimated budget balance for 2021 is a deficit of MVR 15.5 billion. According to the government the primary balance for this period is a deficit of MVR 12.9 billion and this deficit would be financed through various financial instruments such as bonds, sukuk and treasury bills and by borrowing.