Male', Maldives –Prosecutor General of Maldives, Hussain Shameem informs that 65% of the cases that are sent to Prosecute General's Office (PGO) are related to drug abuse.
Statement from PG Shameem comes after the National Bureau of Statistics tweeted on the occasion of "International Day Against Drug Abuse and Illicit Trafficking 2021, with the slogan "Share Facts On Drugs, Save Lives."
The statistics shared by the Ministry showed that a total of 1,425 drug cases were logged during the year 2020, out of which 46% cases were for having possession of drugs, 26% cases for selling drugs, 14% cases for using drugs, 10% for illegally importing drugs into the country and the remaining 4% for other illegal purposes.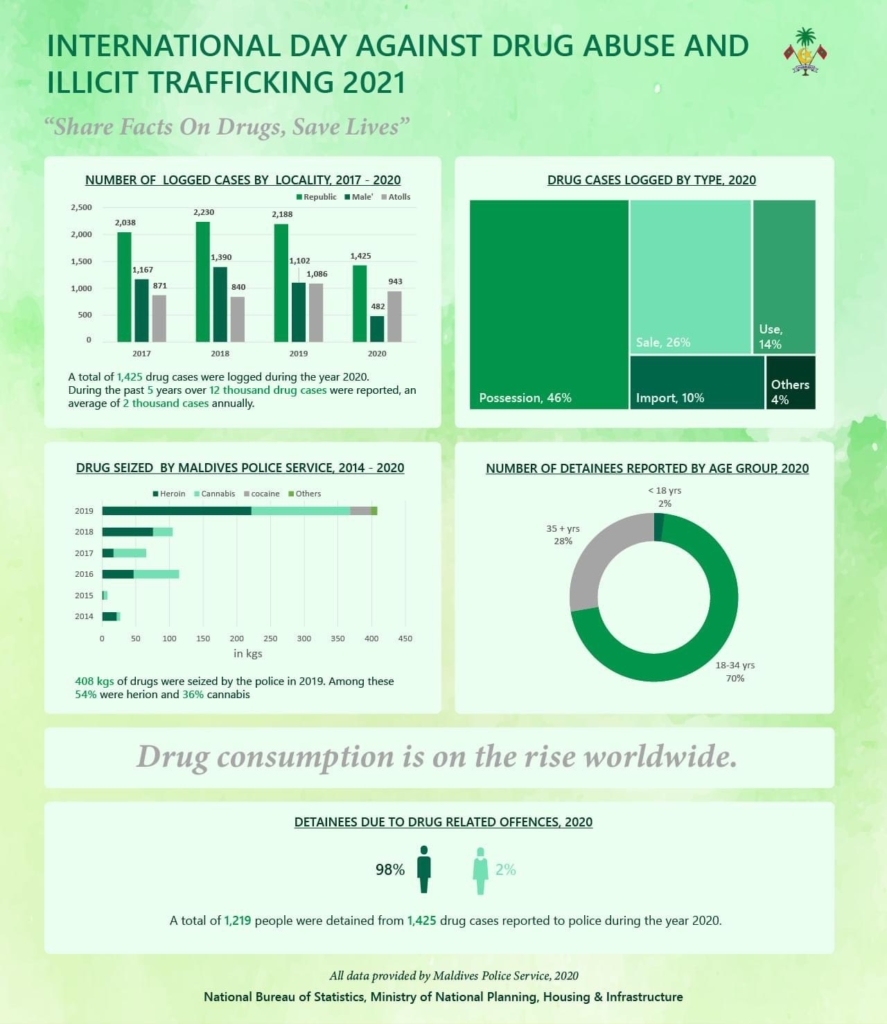 Statistics also show that a total of 1,219 people were detained from 1,425 drug cases that were reported to Maldives Police Service last year; 70% of the detainees were between the ages 18-34, while 28% were above 30 years and the remaining 2% of detainees were below the age of 18. Out of these, 98% of the individuals were males and 2% were females.
PG Shameem tweeted regarding this and stated that it would greatly benefit the government if an efficient way is found to deal with the 46% of possession matters, while Criminal Justice interventions are focused on the 36% of sale/import as mentioned above in the statistics.
As a possible solution for drug abuse, in December, a foundation for a Drug Detoxification and Community Rehabilitation Centre was laid in Hulhumeedhoo, Addu City in the presence of Vice President, Faisal Naseem as hope to reduce the number of people going into crime due to drugs in the Southern Atolls.