Malé, Maldives – Speaker of Parliament and former President, Mohamed Nasheed has called on the countries in the Indian Ocean to work to prevent the threat of industrial fishing in the water of Chagos archipelago.
In a statement, Speaker Nasheed said the declining fish stocks in the Indian Ocean are extremely worrying because of the large-scale fishing.
President Nasheed said the only area in the entire region that is protected from industrial-scale fishing is the sea area that includes Maldives and Chagos.
In the statement, President Nasheed thanked the British Government for its efforts to protect the Chagos sea area.
Nasheed also called on Maldives , Mauritius, Sri Lanka, Seychelles and India to work together to protect the area.
Former President Nasheed's statement comes at a time when Mauritius is working to gain sovereignty over Chagos islands.
Marine experts believe that if Chagos falls under Mauritius, there is a possibility of industrial level fishing by large Indian and Mauritian fishing vessels.
The Chagos Marine Protected Area, located in the central Indian Ocean in the British Indian Ocean Territory of the United Kingdom, is one of the world's largest marine protected areas, and one of the largest protected areas of any type.
It was established by the British government on 1 April 2010 as a massive, contiguous, no-take marine reserve, it encompasses.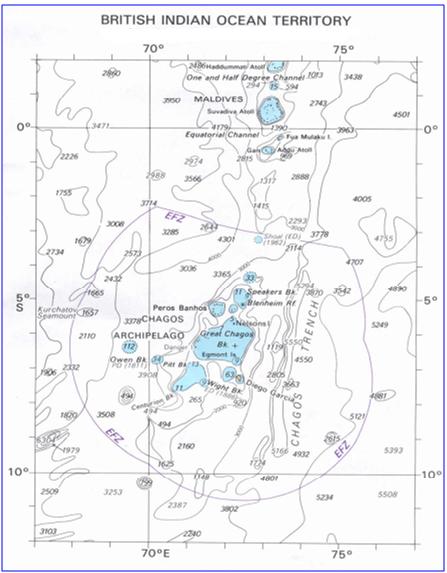 BIOT Commissioner declared 640,000 square kilometers (250,000 sq mi) of ocean waters, including roughly 70 small islands and seven atolls of the Chagos Archipelago 'no-take' – where all commercial fishing and extractive activities are prohibited – Marine Protected Area.
This decision doubled the previous global no-take area, as well as providing protection to approximately 1.5% of the total global area of near-surface coral reefs.
According to studies, before the MPA was established, longline fishery in Chagos waters was active year-round, mainly under Taiwanese and Japanese flagged vessels targeting large pelagic species, including yellowfin tuna and bigeye tuna, swordfish, striped marlin and Indo-Pacific sailfish, with annual catches ranging from 371–1366 tonnes over the last 5 years.
The purse-seine fishery targeted yellowfin and skipjack tuna and was highly seasonal, operating between November and March with a peak usually in December and January. Log book records show that catches, mainly by Spanish and French flagged vessels, were highly variable, ranging from less than 100 to around 24 000 tonnes annually over the last 5 years.