Male', Maldives – Drugs worth USD 1 billion have been seized in the Maldivian Exclusive Economic Zone (EEZ), which is the coastal and marine area in which Maldives has jurisdiction over.
Pakistani news outlet, BOL reported that the drugs were seized in an operation carried out by the Anti Narcotics Force (ANF) of Pakistan, after the agency received intelligence information about the drugs.
It was further reported, along with photos and videos of the incident, that the members of an international drug trafficking ring were arrested in this operation, while traveling with the drugs between the area where the Maldivian and Arabian waters meet.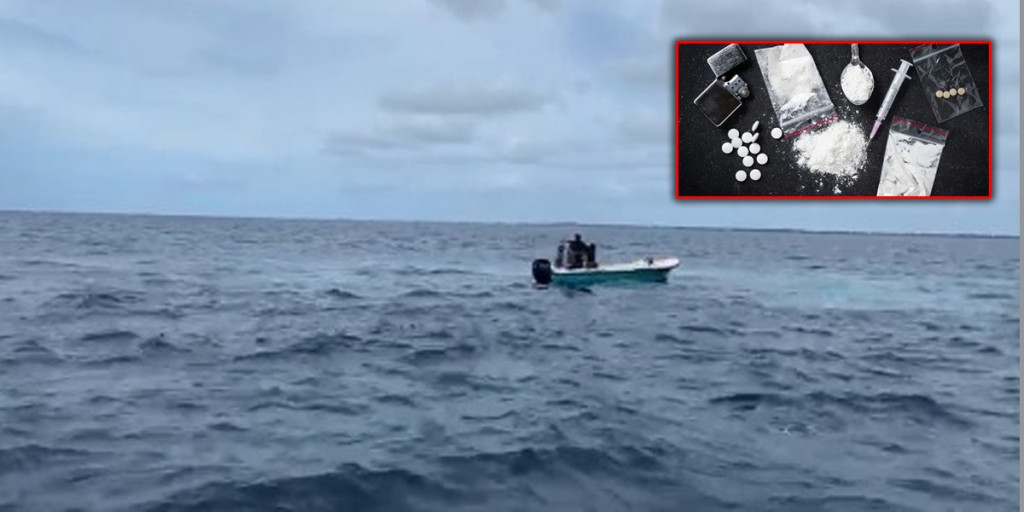 According to some of the publicized photos, a man was seen handcuffed and kept in what appeared to be a dinghy, while another video showed the items in the dinghy being thrown overboard. Pakistani media have reported that this operation is being carried out in the Maldives as well and that several people have been arrested in the country.
While Police have yet to make an official comment on the matter, Commissioner of Police, Mohamed Hameed sent out a series of tweets explaining that a huge drug bust was carried out by Maldives Police Service on Saturday, and that approximately 80kg worth drugs were seized in this operation. He further detailed that this operation was carried out solely based on locally developed intelligence and policing work.
Approximately 80 kgs of narcotic drugs seized in Addu. The operation was carried out solely on locally developed intelligence and policing work. We will be engaging with our international partners as the investigation progresses. We are intent on disrupting the supply of drugs.

— Mohamed Hameed (@M_Hameedh) October 4, 2020
As of recent time Maldives Police Service has been carrying out many operation in which alcohol and drugs have been seized all across the country, with the most recent being the one carried out in Addu City. Other than that, a man was arrested in Kulhuduffushi and several raids were carried out in various parts of Male' as well.