Maldives sits squashed in a pivotal point when rivalry between China and India increases for greater influence in the Indian Ocean region. The Island nation maintained stable diplomatic relations with most of the volatile regional powers until recent times. "Seemingly" a friend for all policy of former president Maumoon Abdul Gayyoom in diplomatic arena benefited the country, adopting "benign neglect" when it comes to geopolitical affairs throughout his three decade presidency.
Beijing was also a key partner of Maldives since bilateral relations established between both countries in 1972.  But "India first policy" of Maldives diplomacy remained unchanged. Bilateral relations with India was established soon after country's independence from British protectorate. Since then, India remained as Maldives long term partner and the closest ally.
Historic tie between India and Maldives
India established its Mission in Maldives first in 1972, followed by a resident High Commissioner in 1980. Maldives opened a full fledged High Commission in New Delhi in November 2004, at that time one of the only four Maldivian diplomatic missions worldwide.
On major international issues Maldives had consistently supported India in multilateral fora, such as in the UN, Commonwealth, NAM and the SAARC.
India-Maldives shared historical military cooperation's in which one of the most significant event includes Indian military response to an appeal for help by then-president Gayyoom, when mercenary gunmen tried to topple his government on November 3, 1988. After the incident the country has been heavily depended on India in numerous areas including military aid.
Under the bilateral agreements between two countries, India vowed to provide essential food items like rice, wheat flour, sugar, dal, onion, potato and eggs, and construction materials such as cement, construction sand and stone aggregates to the Maldives on favorable terms.
China – a friend emerged – leaving India behind
Unlike India, much of Chinese presence in Maldives cannot be traced back beyond 2012. When compared with India, China had smaller role in Maldivian affairs. But with the Chinese economic boost, and its most ambitious mega project  "the New Silk Road" project drastically increased Chinese presence in the Maldives, due to the strategic location of the island nation.
Economic relations with China-Maldives skyrocketed when Chinese tourists hit-record amounts in Maldives tourist arrivals. At the same time Chinese investments were poured on the country's economy during former president Abdulla Yameen's presidency, drastically resulting in alarming debts to China.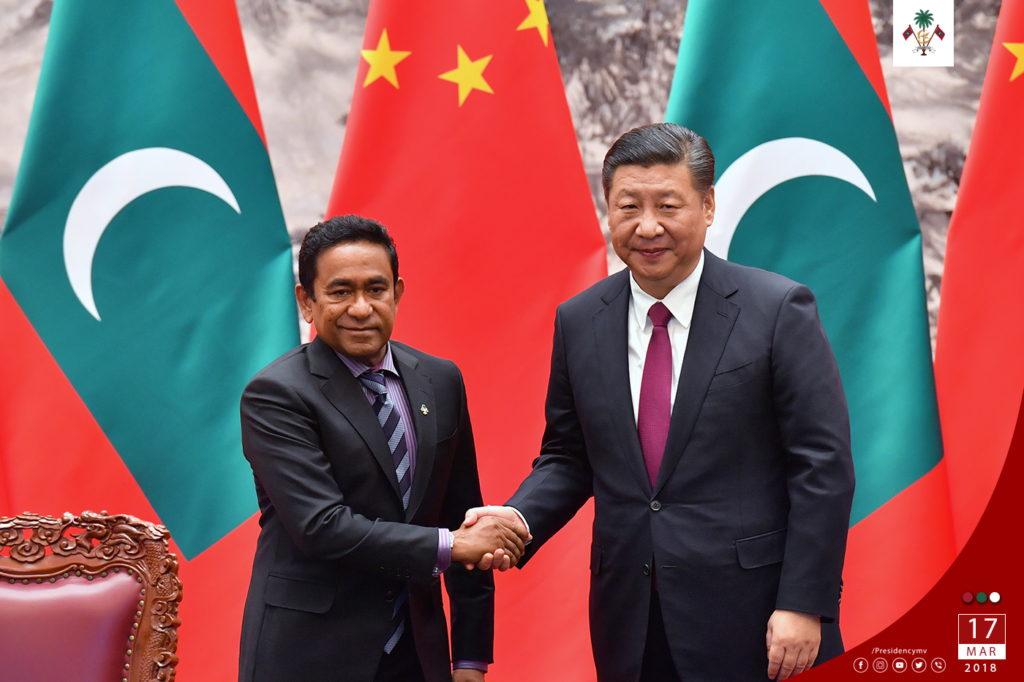 It is estimated that China's "One Belt, One Road" initiative will cost between USD 4 trillion and USD 8 trillion and affect 65 countries globally including Maldives. According to statistics Maldives debts to China is hovering above a billion dollars now, something often stressed by former  president Mohmed Nasheed.
Chinese huge investments in Maldives, and millions of dollars in grants and loans resulted much closer tie with Beijing and President Abdulla Yameen's administration, while relationship with India gradually declined. Since, "then-regime" gave no importance for long term "India first policy" of Maldives, wind of power struggle in the archipelago was changed to a political tiff between pro-Chinese and pro-Indian politicians.
Come back of India
Taking advantage of already shaky relationship of India-Maldives, now ruling party , Maldivian Democratic Party (MDP) led by former president Mohmed Nasheed publicly accused China for debt trapping the country and immediately sided with India in his work against former president Yameens's regime.
The Progressive Party of Maldives of former president Abdulla Yameen who was in power at the time,  accused India for meddling its internal affairs on numerous occasions.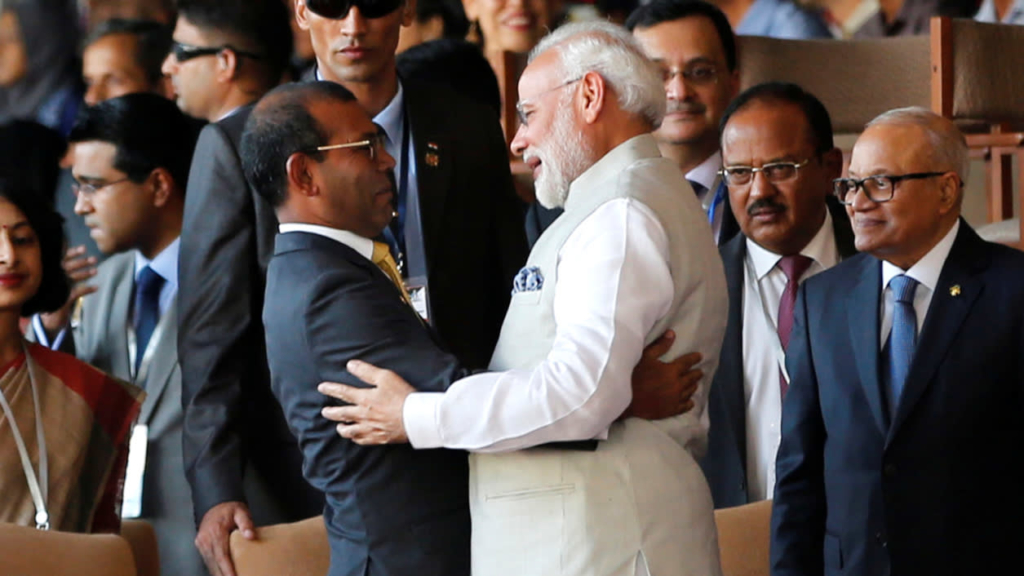 But India continued its hope to regain diplomatic influence in the Indian Ocean islands, assisting opposition in all areas possible. Finally India won the bid after the new administration, led by President Ibrahim Mohamed Solih, took power following the defeat of the pro-China President Yameen in 2018 presidential election. Soon after the election India announced USD 1.4 billion financial assistance plan to Maldives with USD 800 million Line of Credit Agreement.
Despite the small size of the country, Maldives has a huge strategic importance for both India and China. Having seen how Maldives became hostile to India when previous regime grew closer to China , India now puts more efforts to avoid the island nation slipping out of India's sphere of influence.
As the Maldives sits on major sea lanes, including the East-West shipping route through which much of West Asian oil headed for East Asia is transported, India is aware of the strategic importance of the location to China and willing to outbid China at any cost.
Fear of growing anti-Indian sentiments in Maldives
Oppositions recently have hit the streets of capital Male', to protest against India's military presence on Maldivian soil, followed by "IndiaOut" hashtag that has gone viral over social media.
Rising anti-Indian discontent has been triggered by a chain of events in recent years in political tiff between pro-Chinese and pro-Indian politicians. Now ruling party notably, a pro-Indian ideology stood against Progressive Coalition which is favorable to China. If the current regime have undisclosed arrangement with India to maintain Indian influence permanently, a volatile turmoil is yet to see.