Addu City, Maldives – High Commission of India in Maldives has revealed that the Addu Roads and Reclamation Project under the Addu Development Project (ADP) would start in December.
The USD 147.1 million project to develop the roads of the city and also reclamation of 228 hectares of land is set to be completed within 24 months. This project includes paving of about 40 km of unpaved road and providing street lights and CCTV coverage for all islands of Addu. In addition to this, the road work involves development of a new 4-lane bypass through the shallow back-reef on the ocean side connecting Hithadhoo Island with Maradhoo Island.
The total length is about 1.5 km out of which about 0.9 km will be on embankment and will require shore protection and borrow material and the remaining length is bridged with two bridges of 210m and 450m length. In addition to this, the resurfacing of 3.315 km of existing roads is also included in the project's scope.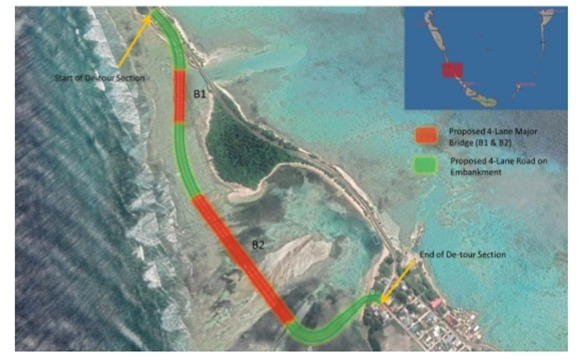 In addition to this storm water drainage systems would also be designed and constructed within Addu City to establish an efficient storm water drainage system for the islands of Hithadhoo, Maradhoo, and Hulhumeedhoo to efficiently alleviate the flooding that occurs due to seasonal rains.
Under the one-off land reclamation and shore protection project is proposed to create a land area of approximately 228 hectares in order to preserve and protect the natural environment. The proposed reclamation for purposes of residential, commercial, and industrial development is estimated for Hithadhoo, Hulhudhoo/Meedhoo (38 hectares including two island resorts of 5 hectares each), and Maradhoo/Maradhoo-Feydhoo (75 hectares).
According to the High Commission, the zoning plans for these reclamation projects would facilitate the upgrading of existing harbour front facilities, allocation of land for trade and social uses, as well as residential needs of these communities. Furthermore, lagoons will be reclaimed to form islands within the scope of this project and the private sectors would be invited to develop resorts on the newly reclaimed areas. Land reclamation and shore protection of an estimated 25 hectares has also been proposed to attract potential investors to develop 4 star "Lagoon Resorts" in the region.
This project is set to transform Addu City into a fully functional city, a thriving economic hub and an attractive tourist destination under the "Addu Development Project (ADP)" project. With this project, it is set to facilitate public sector investments in the economy and the development of infrastructure required to enhance private sector investments that would increase the economic growth of Addu City.
According to the Indian High Commission, the Pre-Qualification exercise for selecting the contractor has already been completed, and the Ministry of Finance, Government of Maldives will launch a tender exercise within this month for qualified companies to undertake roads, utilities and storm water drainage works. The project is being carried out under the line of credit provided by EXIM Bank of India.