Male', Maldives – A close friend of the Former President of the Maldives, Dr. Mohamed Waheed Hassan Manik, Ahmed Shareef (Cyryx Shareef) has said that the former Indian Foreign Secretary Ranjan Mathai demanded the former president to resign when he took office after the Former President Mohamed Nasheed resigned.
He revealed this information in a tweet he posted today following the Former President Dr. Waheed's statement during last night's rally by the opposition where he told that a foreign diplomat had asking him to resign on live TV after he took office.
DrWaheed evidhaalhuvi isthiufaa dheyn edunee India ge Foreign Secretary Mr Ranjan Mathai. evaahaka @DrWaheedH alhugandu kaareegai hama eduvasvaru vidhaalhuvi. Adhi India in ithuru pressure dhinumah SBI in dheefaivaa $50m vaguthun dhahkan engi. https://t.co/3sxekFgxMc

— Ahmed Shareef (@shar_f) October 19, 2020
Ahmed Shareef added that the former Indian Foreign Secretary Ranjan Mathai had held a meeting with the the Former President Dr. Waheed in which the former Foreign Secretary had requested the then president to resign on live TV and that when the Former President Dr. Waheed did not, the Indian government pressured the Maldivian government by forcing to pay back a loan of USD 50 million taken from State Bank of India immediately.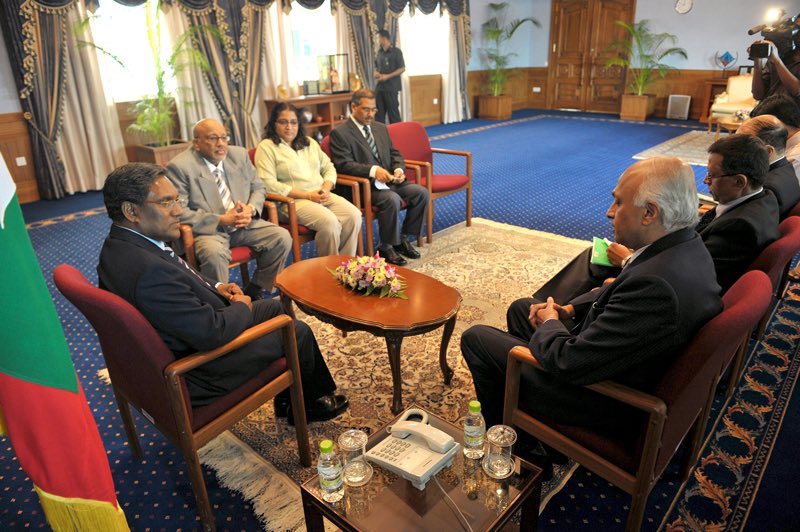 He also told that this loan had to be paid back in full in USD and that government paid the full amount after taking USD 50 million from the national reserve at the Maldives Monetary Authority (MMA). According to Shareef, this was done under the supervision of the Minister of Tourism at the time Ahmed Adeeb and the Defence Minister at the time Colonel (Retired) Mohamed Nazim.
Shareef also stated that the challenge was to pay back the full amount in USD and that later the amount was paid back in two installments.
While speaking at a gathering by the opposition last night, Dr. Waheed had stated that ever since democracy was introduced in the country, foreign influence had been an issue for the island nation as such influences come in through various activities carried out in the name of democracy. He also added that he had to face such influences during his short term as the president and that day by day, such activities are increasing.