Presidents Office website has published President Ibrahim Mohamed Solih's speeches made during the closing ceremony of MDP's local council election campaign "Rahvehi Fathis" at Alifu Alifu Rasdhoo.
While MDP has always been an advocate of not using state resources for political gains, MDP's administration under the leadership of President Ibrahim Mohamed Solih have been using various state resources, including SOE's to influence tomorrows local council and Women's Development Committee elections.
This also comes while the government has signed a total of 16 developmental contracts within the past two week and broke ground on 14 of the projects. While government and SOE's officials have been defending these projects by saying that the dates falling near to the Local Council Elections is merely a coincidence, many people have been criticizing the current administration and MDP for doing everything they had advocated against previously.
The latest and the most direct use of state resources came last night after Presidents Office had published 4 separate articles from President Ibrahim Mohamed Solih's speech made at MDP campaign closing event. While the Presidents Office website did not mention that it was an MDP's event, the articles read "the concluding ceremony of "Rahvehi Fathis" campaign at Alifu Alifu Rasdhoo."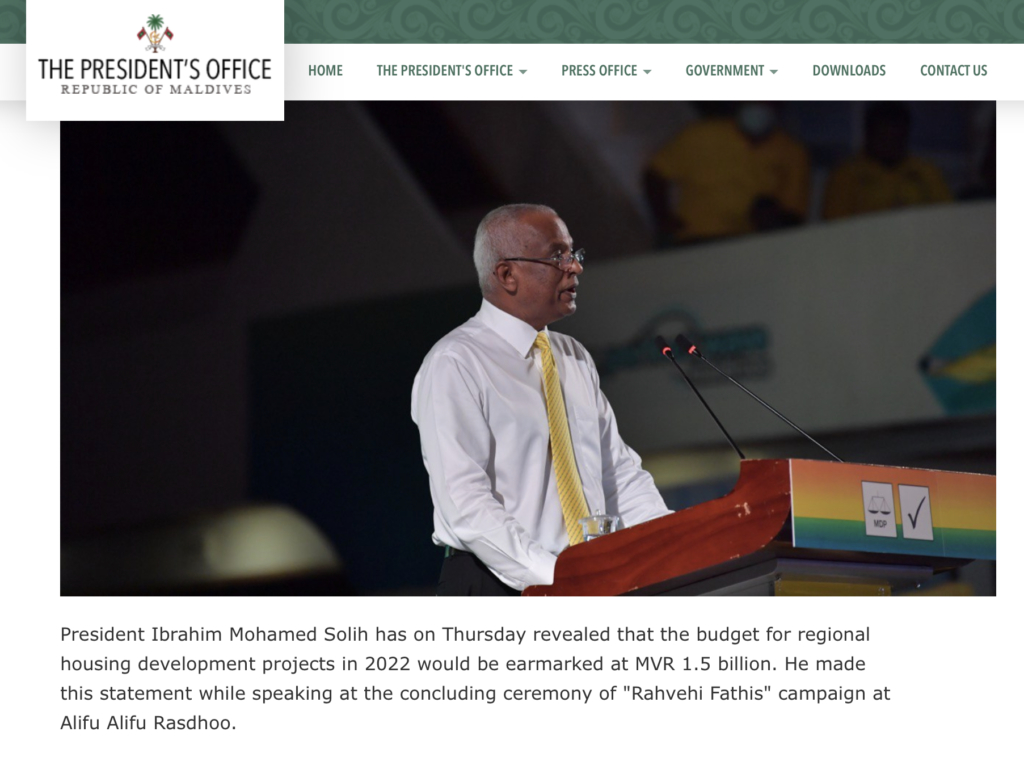 In addition to the Presidents Office website, their Twitter handle and Facebook page has also shared these articles. In addition to these, official Twitter handles and Facebook pages of the government, "Government of Maldives" have been used heavily to promote the projects being carried out by the current administration within the past weeks where illustrations of project updates were being shared on both platforms as the local council elections came closer.
In addition to this, MDP had reserved the state media, Public Service Media (PSM) for whole day yesterday, which was against the Elections (General) Act, Article 30 (c) which states that "from the time allotted to candidates pursuant to subsection (a) no broadcasters shall under any circumstance give or sell more than 10% of the time allotted to one candidate, to one individual candidate or a political party or a candidate representing a political party."
While all politicians in power have been using such tactics to get more votes for their party candidates, it is also noteworthy that institutions such as Anti Corruption Commission (ACC), Elections Commission and Health Protection Agency (HPA) have been silent on such matters and have not raised much concern when the current ruling party has broken guidelines or any ethical requirements.
Members of the general public have also been criticizing HPA for caving under political pressure and giving leniency for political activities relating to Local Council Elections, which might compromise the measures imposed to curb the Covid-19 spread within Maldives as well. HPA has also been criticized for not voicing out their concerns when ruling party, MDP fails to abide by the HPA guidelines.
In addition to this, ruling party, MDP was fined by MVR 5,000 and the Opposition Coalition PPM & PNC was fined by MVR 25,000 each on March 15, 2021 for violating the guidelines given by HPA against the ongoing Covid-19 pandemic.
While this was the first time MDP was fined for the violations by HPA, it came after heavy criticism from the opposition and the general public, which repeatedly pointed out that no action was being taken against MDP despite several prior violations, while the authorities were quick to arrest and fine those who belong to the opposition.