Israel – Benjamin Netanyahu's record 12-year rule as Israel's prime minister has come to an end with parliament approving a new "government of change" led by nationalist Naftali Bennett on Sunday.
Bennett, the head of an ultranationalist party that controls six seats in the 120-seat Knesset, was sworn in as prime minister by a razor-thin margin of 60 to 59 votes.
Netanyahu, the 12 years long prime minister of Israel, sat silently during the vote on Sunday. After the new government was approved by the Parliament, he stood up to leave the chamber, before turning around and shaking Bennett's hand. A dejected Netanyahu, then briefly sat in the opposition leader's chair before walking out.
Before Bennett was sworn in, a confrontational Netanyahu, 71, said he would be back sooner than expected making his stance clear.
If we are destined to go into the opposition, we will do so with our heads held high until we can topple it.

Former Prime Minister of Israel Benjamin Netanyahu
Bennett once served as Netanyahu's chief of staff and had a rocky relationship with him as defence minister. Although they are both right-wingers, Bennett spurned Netanyahu's call after the March 23 election to join him.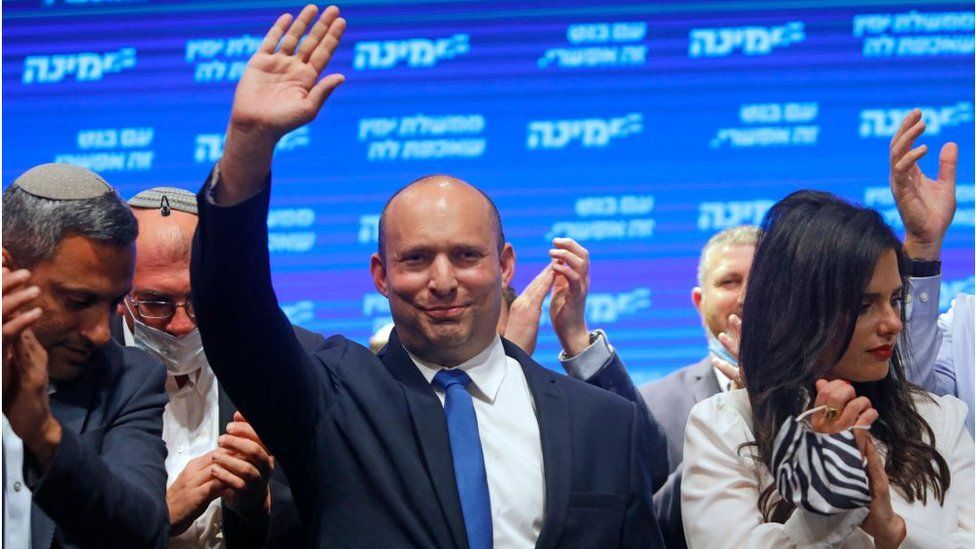 Under the coalition deal, Bennett, a 49-year-old Orthodox Jew and high-tech millionaire will be replaced as prime minister in 2023 by centrist Yair Lapid, 57, a popular former television host. With his far-right Yamina party winning only six of parliament's 120 seats in the last election, Bennett's ascension to the premiership came as a shock to many.
The newly sworn-in government of Israel mainly plans to avoid sweeping moves on hot-button international issues such as the policy towards Palestinians and to focus instead on domestic reforms of the country. Palestinians were not necessarily amused by the change of administration with predictions that Bennett, a former defence chief who advocates annexing parts of the occupied West Bank, would pursue the same right-wing agenda as Likud party leader Netanyahu.
Bennett addressed the Parliament mostly focusing on domestic issues, but he expressed opposition to efforts by the United States to revive Iran's nuclear deal with world powers. He reiterated that Israel will not allow Iran to arm itself with nuclear weapons, vowing to maintain Netanyahu's confrontational policy.
Israel will not be a party to the agreement and will continue to preserve full freedom of action.

Newly sworn in Prime Minister of Israel Naftali Bennett
Netanyahu, widely known as 'Bibi' was Israel's longest-serving leader, serving as prime minister since 2009 after a first term from 1996 to 1999. The most dominant Israeli politician of his generation, he had become the face of Israel on the international stage as well.
Naftali Bennett is an Israeli politician serving as the 13th and current prime minister of Israel since 13 June 2021. He served as minister of Diaspora Affairs from 2013 to 2019 and as minister of Defense from 2019 to 2020. He is now the newly sworn-in Prime Minister of Israel.