Male', Maldives — The Maldives Customs Service on Saturday stated that import revenue grew by 49 percent earning MVR 4.2 billion in January 2022.
The latest statement revealed by the Customs showed that including the import of fuel, there has been an increase of 49% in the goods that were imported in the first month of 2022. Customs noted that excluding fuel, there is a 49 percent increase in imports last month.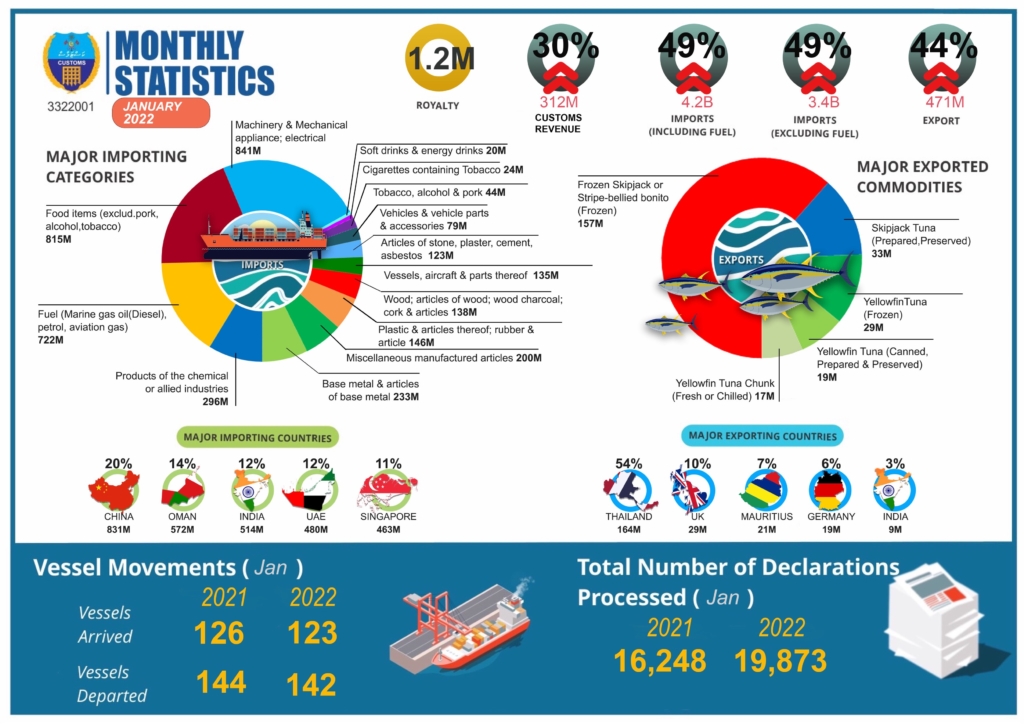 Out of the total MVR 2.6 billion on imports, MVR 841 million was on importing machinery and mechanical appliances, making them the highest imported goods into the Maldives in January.
The second highest imported goods category was food items at MVR 815 million. However, this food category does not include pork, alcohol and tobacco that was imported into the Maldives. Customs informed that MVR 44 million worth of tobacco, alcohol and pork were imported from Maldives during the period. MVR 24 million worth of cigarettes were imported.
Fuel was the third-highest good that was imported to the Maldives during December, having imported MVR 243 million worth of fuel. These fuels included marine gas oil (diesel), petrol and aviation gas as well.
In January 2022, Maldives imported 146 million worth plastics and articles thereof; rubber and articles despite the plastic ban.
The major importing countries are China (20 percent), Oman (14 percent), India (12 percent), UAE (12 percent) and Singapore (11 percent).