Malé, Maldives – Minister of Environment, Climate Change and Technology of Maldives Aminath Shauna stated on Monday that the incumbent government will not prevent the Addu land reclamation project despite the forecasted negative impact on the environment.
Answering a question by the MP for Addu City's Maradhoo constituency Ibrahim Shareef, Minister Shauna stated that the government will not hinder the Addu development.
Environment Minister stated that at 14:30 today the ministry will meet with the Ministry of National Planning, Housing and Infrastructure and Environmental Protection Agency to discuss a way forward taking into account the potential negative environmental impact caused by the reclamation project.
Addu is the smallest naturally formed atoll in the Maldives. Addu atoll does not have a current flow system … EIA report shows that [Addu reclamation project] will impact 42 percent of the atoll lagoon area.

Environment Minister Aminath Shauna
Minister Shauna stated that as an Addu born person she understands the struggles Addu city residents, especially those of Maradhoo and Maradhoofeydhoo, face due to lack of land, with three generations living under one roof.
We must base our development projects on design, science and data. When infrastructure development did not account for these, our islands are facing erosion from one, flooding from another and tidal swelling from some other side.

Environment Minister Aminath Shauna
Minister Shauna has addressed the issue at a time when environmental experts and multiple NGOs have expressed alarm at the environmental impacts of the project.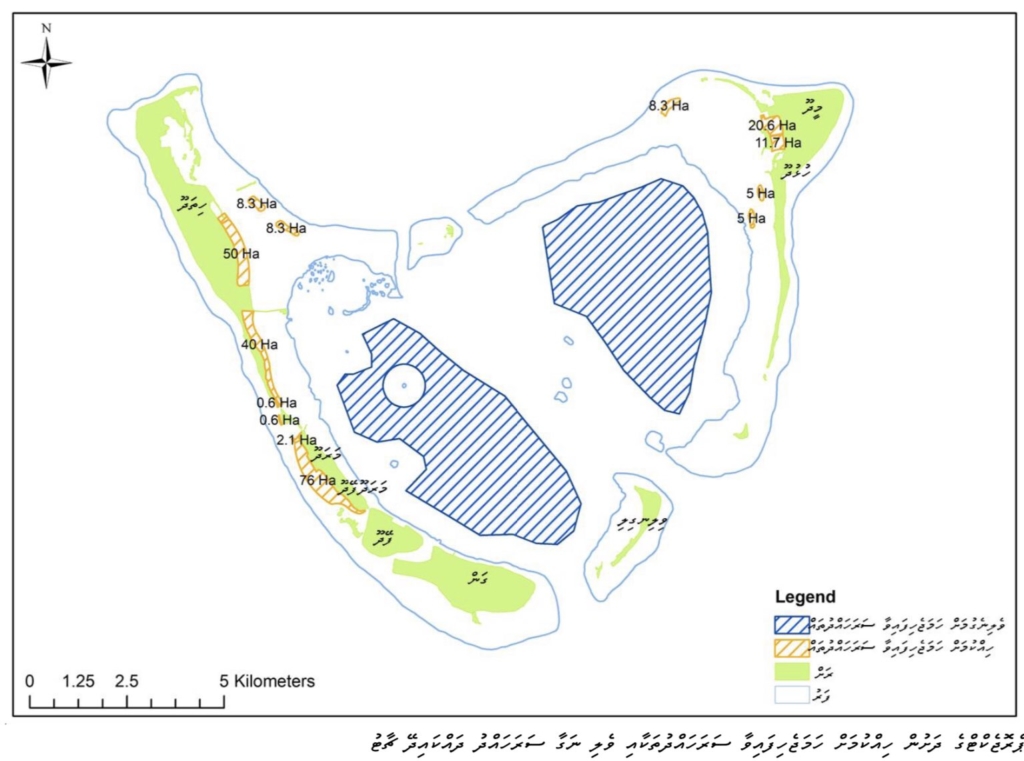 Reports suggest that an estimated 6,916,573cbm of sand will be dredged inside the atoll lagoon and the dredging site covers 42 percent of the lagoon. Transparency Maldives released a statement saying that the projected value in damages to the environment due to the Addu reclamation project is at USD 858,343 million.
The USD 147.1 million project to develop the roads of Addu city and reclamation of 228 hectares of land was contracted to Afcons Infrastructure Limited of India.
Under the one-off land reclamation and shore protection project is proposed to create a land area of approximately 228 hectares. The proposed reclamation for purposes of residential, commercial, and industrial development is estimated for Hithadhoo, Hulhudhoo/Meedhoo (38 hectares including two island resorts of 5 hectares each), and Maradhoo/Maradhoo-Feydhoo (75 hectares).
The reclamation project is being carried out under the line of credit provided by EXIM Bank of India.