Malé, Maldives – Maldives Inland Revenue Authority (MIRA) on Tuesday began to disclose the names of non-filers and non-payers under its Name and Shame Policy.
This is the first time in history that MIRA has acted on its Name and Shame Policy. Thirteen resorts were named in the first phase. Four additional parties were also identified for disability to pay agricultural land rent.
The names displayed at the Taxpayer Service Centre are that of deliquents failing to pay in the non-tax category exceeding MVR 100,000.
Update: The resorts listed owe the government MVR 665 million in resort rent.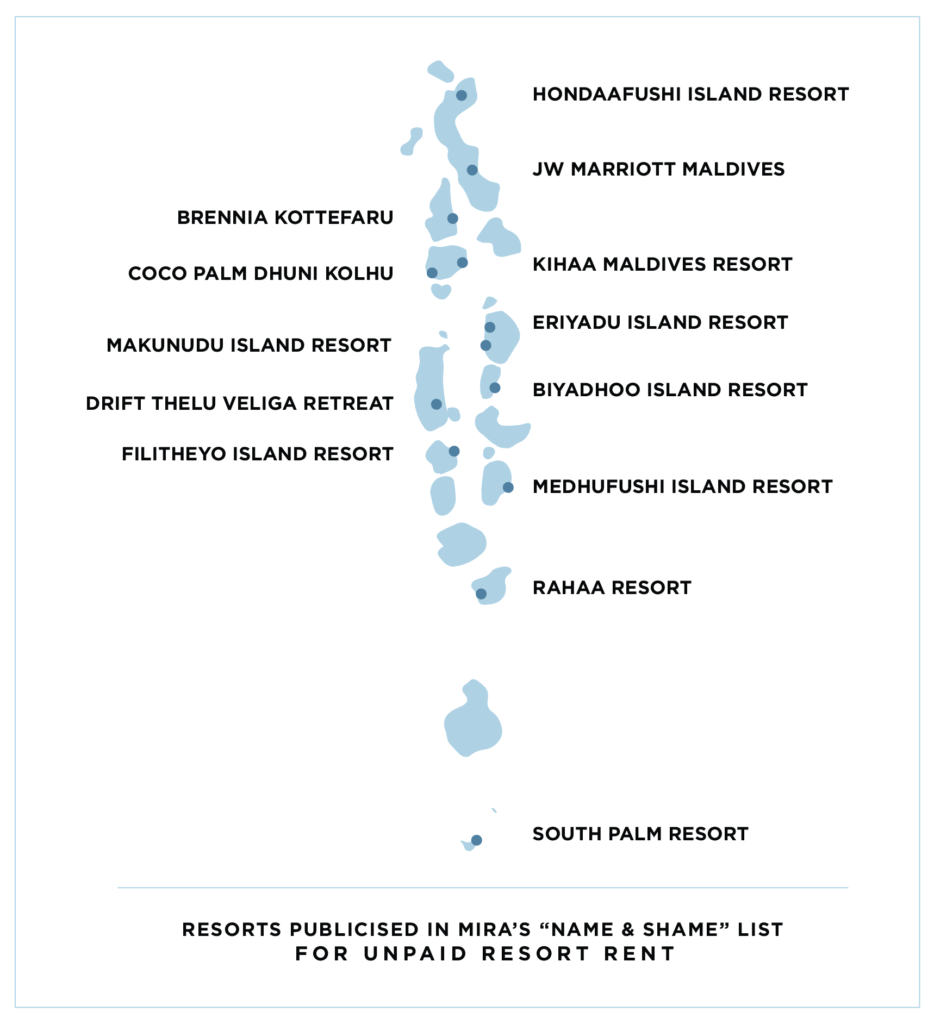 The twelve companies include,
Hondaafushi Island Resort – AAA & Trading Company
JW Marriot Maldives – Bon Free
Brennia Kottefaru – ABN
Coco Palm Dhuni Kolhu and Biyadhoo Island Resort – Sun Hotels
Kihaa Maldives – Athama Marine International
Makunudhoo Island Resort – Sunland Travel
Eriyadu Island Resort – Platinum Capital
Drift Thelu Veliga Retreat – Theluveliga Retreat
Filitheyo Island Resort – AAA & Trading Company
Medhufushi Island Resort – AAA & Trading Company
Rahaa Resort – Heavy Load Maldives
South Palm Resort – South Palm Maldives
Reports suggest that AAA & Trading Company is affiliated with Minister at the President's Office Ali Shiyam while Heavy Load Maldives is owned by former Deputy Speaker of the Maldives Parliament Moosa Manik.
The policy which went into effect on 1 April 2022 includes four stages with the first stage implemented yesterday by non-payers identity information (Name, Address, Registration Number, TIN, Company Logo) were displayed at the Taxpayer Service Centre. The next steps are publishing the same information on the MIRA website, the government gazette and broadcasting on mass media.
Where a delinquent taxpayer fulfils the filing and/or payment
obligation, the person will be removed from the MIRA's list. However, at stage 4, where the name has been gazetted, it cannot be removed.