Male', Maldives – Senior Executive Director of the Maldives Ministry of Tourism Thayyib Shaheem on Wednesday stated that Singapore Airlines SQ431 is delayed from 12:55 and he maybe travel from SQ to Singapore.
Thayyib also tweeted at 04:25 that the " The Maldives will not to provide refuge or asylum to "GR." The people of Maldives stands with the people of Sri Lanka. Followed by "ask him to go back" at 05:48.
The Singapore Airline flight in question has been delayed with the new departure time at 23:00 from Venala International Airport, Male' and arrival at Changi, Singapore at 06:57.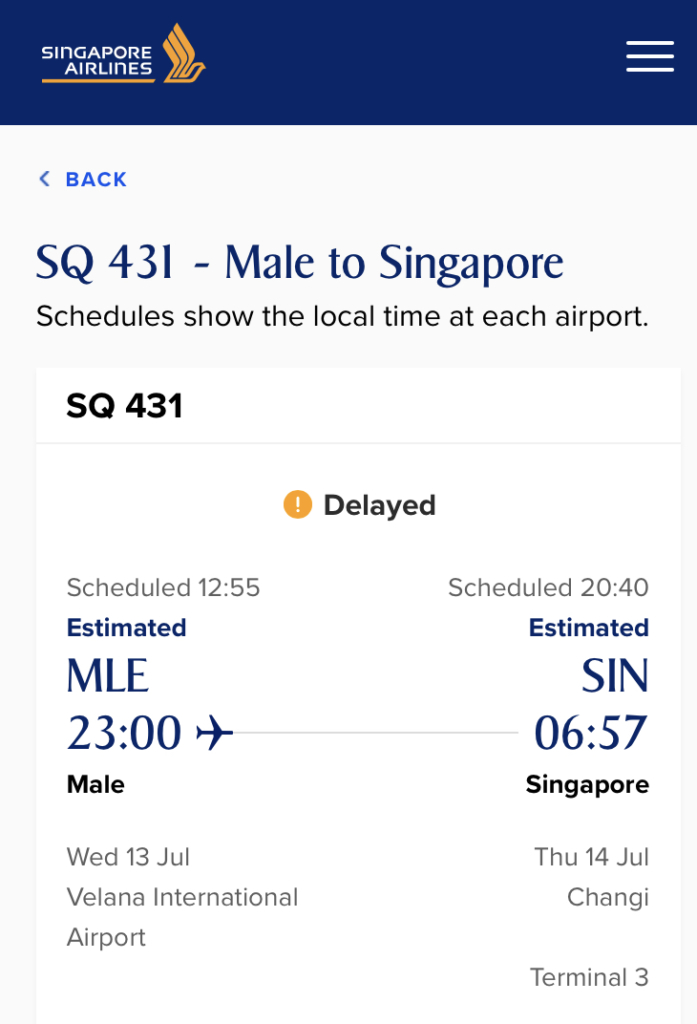 While Thayyib has stated this, Indian media reports that Gotabaya will be taking a different flight to Singapore later this evening. The flight–Singapore Airlines SQ 437–will take off from the Maldives capital Male on July 13 at 23:25 and will land in Singapore at 07:05 am on July 14.
Sri Lankan nationals living in the Maldives are calling out the Maldivian government for giving safe entry to disgraced of disgraced President Gotabaya Rajapaksa.
The peaceful protest was held at the Carnival Area in the capital city Male' this afternoon with protestors calling the Maldivian government to safeguarding "criminals" and "thieves."
Local news "Adhadhu" reported on Wednesday that the disgraced President of Sri Lanka Gotabaya Rajapaksa is residing at Waldorf Astoria Maldives Ithaafushi resort. Reports suggest that the resort staff has protested Gotabaya's stay at the luxury resort.
A Military jet carrying the Sri Lankan President Gotabaya Rajapaksa landed in Velana International Airport at around 02:50 on Wednesday. Meanwhile, Sri Lankan media reports that President Gotabaya will hand in his resignation today. President Gotabaya appointed Ranil Wickremesinghe as acting president in his absence.
Gotabaya and his companions are expected to travel to their final destination sometime this afternoon or evening. The president would most likely proceed to another Asian country from there, the government source said.
Sri Lankan media reports that President Gotabaya is expected to tender his resignation sometime today.
Reuters reports that the Sri Lankan President Gotabaya Rajapaksa fled the country on Wednesday, hours before he was due to step down after a people's uprising over a devastating economic crisis ended his family's powerful grip on the island nation. As news of the president's flight spread, thousands of people gathered at the main protest site in Colombo chanting "Gota thief, Gota thief", referring to him by a nickname. Hundreds of others stormed the prime minister's office, demanding the resignation of Prime Minister Ranil Wickremesinghe.