Male', Maldives – FENAKA breaks ground on their new powerhouses buildings in Sh.Feydhoo, ,Sh. Maaungoodhoo, N.Manadhoo and N.Fohdhoo.
FENAKA Corporation Limited Managing Director Ahmed Saeed and Velidhoo MP Abdhulla Shafeeq placed the foundation stones at the ceremony Which was held earlier today.
Sh.Feydhoo's power station will be built buy Nasaa Private Limited and is scheduled to be completed in 280 days. The project at N.Manadhoo was contracted to V-Ava Investment and is to be finished in 230 days. The powerhouse project at N.Fohdhoo was given to Beach Builders Private Limited and should be finished in 210 days.
At another ceremony today FENAKA's MD Ahmed Saeed and Manadhoo constituency MP Ahmed Haroon placed foundation stones for a Fenaka office building at Manadhoo.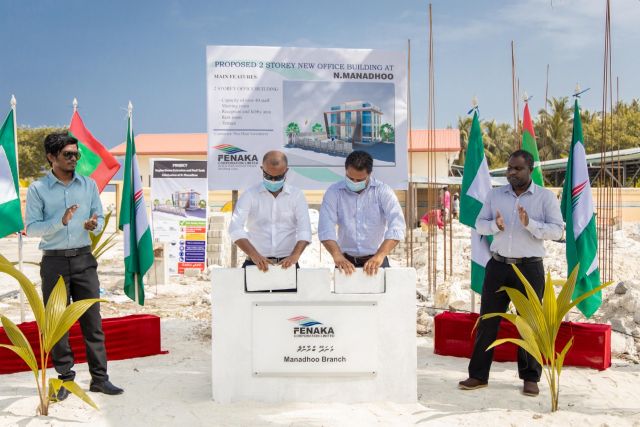 FENAKA said that the new buildings have state of the art office buildings and very safe storage for fuel and that these buildings will have chimneys with air filtration that would reduce air pollution.
While multiple new powerhouses are being built, work is being done to upgrade electrical networks of many islands in which FENAKA provides power service. They added that as per Maldives Energy Authority guidelines, sound pollution by the generators should not reach above 70 Decibels, and that with modern sound attenuator technology, this will be possible at new stations.
FENAKA has started 48 power station projects, of which 15 are completed. FENAKA provides utility services in over 150 islands and has a workforce of more than 3,300 staffs.