Male', Maldives – Maldives Police Service on on Thursday, disclosed the identities of the 10 suspects arrested over the recent drug bust in capital Male' on December 8th.
As revealed by the police, the masterminds behind the drug trafficking are Irufan Thagiyyu, aged 32, from Hulhudhoo, Seenu Atoll and Mohamed Visam, 28, from Inguraidhoo, Raa Atoll. The eight other suspects arrested in the drug bust are;
Abdulla Visham, 26, from Inguraidhoo, Raa Atoll
Ahmed Naseer, 38, from Maaenboodhoo, Dhaalu Atoll
Ahmed Shinaan, 30, from Rasgetheemu, Raa Atoll
Ali Ahmed, 37, from Male'
Mohamed Akram, 27, from Male'
Mohamed Furuqan, 33, from Gan, Laamu Atoll
Mohamed Shareef, 34, from Nolhivaranfaru, Haa Dhaalu Atoll
Mohamed Wajeeh, 35, from Thimarafushi, Thaa Atoll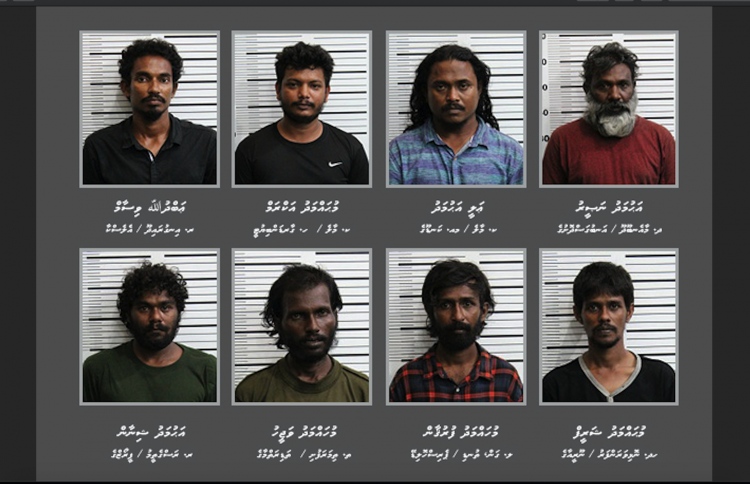 According to the latest statement released by the police, the illegal narcotics seized during one of the biggest drug operations in the capital city weigh over 72kg. The Criminal Court has remanded two of the suspects for 15 days, four men for 10 days, three for a week, and one for five days.
The Drug Enforcement Department, Drug Intelligence and Marine Police had been carrying out the drug operation on both land and sea for more than a week, in order to seize the contrabands and arrest the smugglers. After investigation, police revealed that the narcotics were smuggled into the country via a fishing boat named 'Masjaree', and transported into Male' via a speedboat on December 8. The drugs were then smuggled in the trunk of a car, in which the drugs were found and seized by the police that afternoon.
A number of residences in Male' were also inspected in relation to the case and the police has now taken two cars, the speedboat and the fishing vessel under their custody. According to the police, the arrested suspects were the men on the fishing boat, the speedboat and the car. Commissioner of Police Mohamed Hameed earlier revealed that the seized contrabands were estimated to have a street value of MVR 71 million.
In addition to this, police has urged all vehicle owners to exercise caution noting that most of the time, the owners were unaware that their vehicles and vessels were being used by drug traffickers to transport smuggled narcotics.