Addu City, Maldives – State Minister of National Planning, Housing and Infrastructure Abdulla Sodiq has met with the Addu City Council to discuss ways to manage the property damage caused during Addu Road Development Project.
Multiple cases of wall collapses were reported as the roads are being dug to install sewerage systems. The walls of two private homes in the Feydhoo district and the wall of former Hithadhoo Regional Hospital have reportedly collapsed during the road development.
According to the contract [with Afcons Infrastructure Limited] the company must compensate for any damages caused due to their negligence.

State Minister Sodiq
Sodiq however noted that it is a disservice to the contractor to shoulder all the responsibility since some property walls are very old and are not constructed with foundations.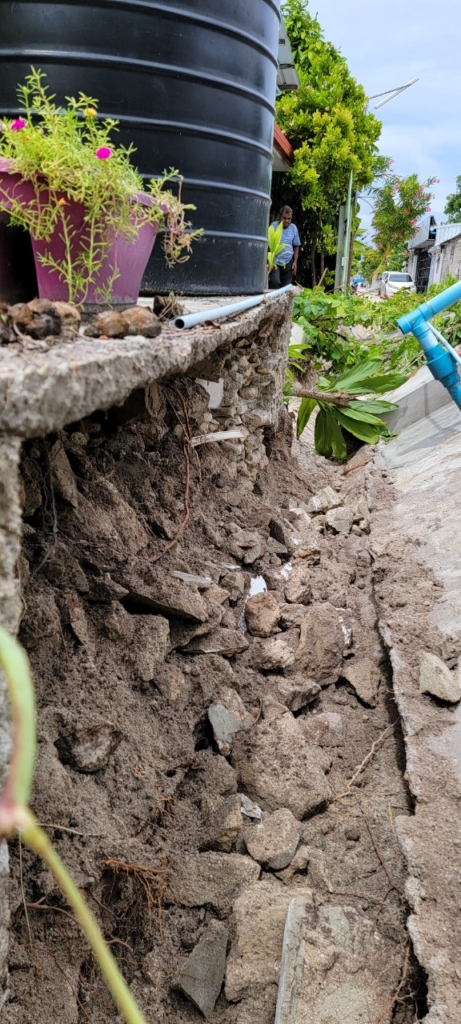 The State Minister added that the current plan is to issue notices to homes with weak walls prior to digging. A meeting was held on Sunday to address the matter with the Addu City Council.
The Addu Road Development Project includes the establishment of,
Storm water drainage: total length of drainage system is approximately 103 kilometers.
Road development: asphalt road to be built in total 40 kilometers of Hithadhoo, Maradhoo, Maradhoofeydhoo, Feydhoo and Hulhumeedhoo roads combined. Along with this, 60 kilometers of Cement Stabilized Base (C.S.B) layer to be built in the roads without asphalt. 3.4 kilometer of the present asphalt roads to be resurfaced and CCTV cameras, lights and other traffic safety equipment to be attached.
Detour 4 land link road: 1.463 kilometers of new 4 land detour link road to be built near Hankede bridge.
The USD 147.1 million project to develop the roads of Addu City and also reclamation of 228 hectares of land is set to be completed within 24 months. The project will be financed under the USD 800 million line of credit from the EXIM Bank of India.