Malé, Maldives – Ministry of Tourism reported on Saturday that 900,808 tourists arrived in the island destination by 20 July 2022 surpassing the pre-pandemic arrival rates this month.
From 1 to 20 July, 83,475 tourists arrived in the Maldives in 2019 before the Covid-19 pandemic while 87,597 tourists arrived within the same duration this month.
The Ministry of Tourism has forecasted 1.6 million tourist arrivals in the Maldives for the year 2022, half of which was surpassed in the first half of this year.
The Ministry revealed that the island destination recorded 900,808 arrivals as of Thursday. While this is a drop of 4.8 percent compared to the same time period in 2019, the arrivals this year is 57.5 percent higher compared to the arrivals in the same duration in 2021.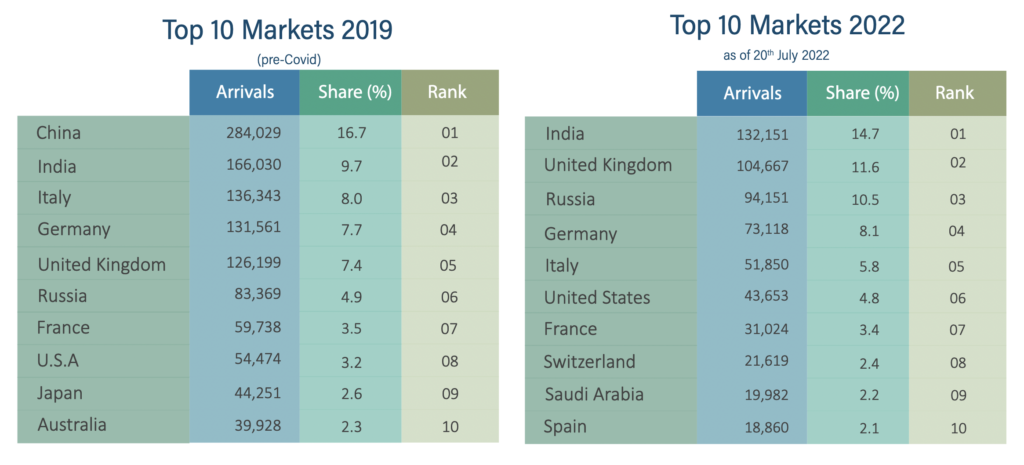 The top source market for tourist arrivals is India making up for 14.7 percent arrivals. The UK follows second with 11.6 percent while Russia stands at third with 10.5 percent. Other top source markets for the Maldivian tourism industry include Germany, Italy, USA, France, Switzerland, Saudi Arabia and Spain.
The island destination has a total operational bed capacity of 57,487 with 38,331 in 163 resorts, 15,218 in hotels & guesthouses and 2,924 beds in 155 safari vessels.