Addu City, Maldives – Gan International Airport (GIA) which is managed by Addu International Airport (AIA) is the main gateway to the development of Addu City and the entire country as a whole. Even though this airport is international by name, most flights to and from this airport are domestic. The only scheduled flight to and from Addu International Airport was that of SriLankan Airlines which started its travels to Addu on December 1st of 2017 and has currently stopped its operations due to Covid-19 pandemic.
Even though there have been a few chartered flights once in a while from South Africa and Europe and the occasional private jets which brings tourists to nearby resorts, Addu airport has not yet functioned as a proper international airport so far. Even though the current government of President Ibrahim Mohamed Solih has gotten rid of many obstacles in the way of making Addu Airport the center of southern development, there are still a number of major works to be done. Most recent changes to the shares of this company have also been brought about to make the functioning of this company easier with the 70 percent held by the government and 30 percent held by Kasa Holdings which is owned by the famous Maldivian businessmen Champa Afeef.
Another noticeable change was the appointment of Gais Naseer as the Managing Director (MD) of Addu International Airport (AIA) in January of this year after a long period without a MD. With his appointment as the MD, Gais's aim has been to develop and make AIA a profitable airport for the citizens of the south.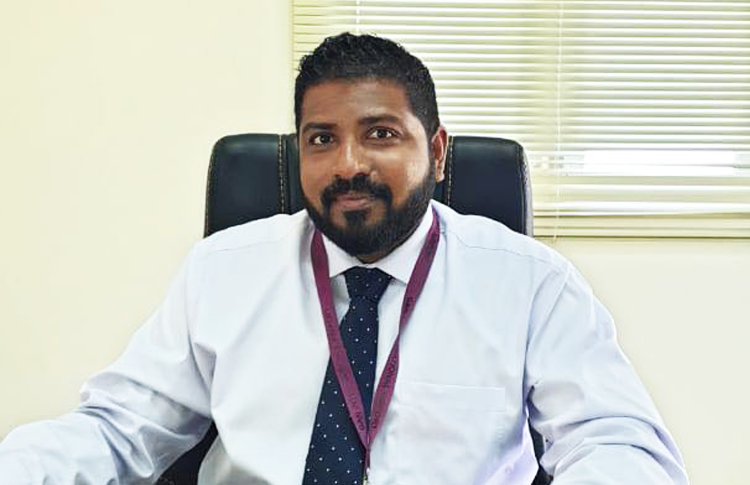 Gais shared the details of their new vision for Addu International Airport and the work they were doing to achieve it. This includes works starting from the smallest of expenses to expanding their services to cater for major airlines.
"I was officially appointed as the MD on January 5th of this year. The first thing I did was check the current situation of the company and the main thing that I noticed was that most resources needed to provide our services were not available at Gan International Airport. Hence some of the necessary resources have already been brought to the airport since then" Gais told.
Gais said that even though a development project had already been finished in 2016, upgrading of ground handling equipment, fire station and Air Traffic Control (ATC) had not been upgraded. He further said that small changes need to be brought to the runway as well and that their first priority is to upgrade the ATC and fire station.
"One main thing I noticed from the former airport development is that the location of the current ATC building and the fire station needed to be changed. Hence the location of these two buildings will be changed to the western side of the runway during the current development project."
In addition to this another one of their current top priorities is to make Gan Airport an IATA Safety Audit for Ground Operations (ISAGO) certified place.
"When it comes to development of Addu Airport, we need to make sure that this airport is registered and certified by IATA Safety Audit for Ground Operations because this will enable more airlines to land at our airport with more ease. The disadvantage of not being registered at ISAGO is that airlines themselves have to send auditors to examine our services which itself is a huge expense for them. Hence, being registered at ISAGO will minimize this expense and travels to and from Gan will be more easy for the airlines. This will solve a major obstacle in the way of different airlines travelling to Gan International Airport" said, Gais.
He further said that this work is being done at a fast pace along with a consultant and that this work is expected to be finished by May of the coming year.
"This is a huge task but this work will not be seen physically to the outside. But, as staffs will be trained and changes will be brought to the operation of the airport, this is also an important task at hand right now."
Gais further added that their vision is to increase the business of Addu airport as soon as possible by having more flights operating to the airport. He added that they are making such arrangements for Addu airport during the restart of tourism in Maldives after it was previously stopped as the Maldivian borders were closed due to Covid-19.
"Many people have raised their concerns when they heard about 17 million dollars. I agree with this 17 million dollars is indeed a small amount when compared to the expense being spent on other airports in Maldives, but our aim is to focus on the obstacles in the way of us providing our services and as a start we have decided to upgrade the current terminal to an international terminal and build a new domestic terminal and also buy some necessary vehicles."
Gais said that they have come to an agreement with Maldivian airlines to start the operation of seaplanes between Gan and Huvadhoo atoll and that with the restart of the resort operations, Gan and Huvadhoo will be linked by seaplane as well.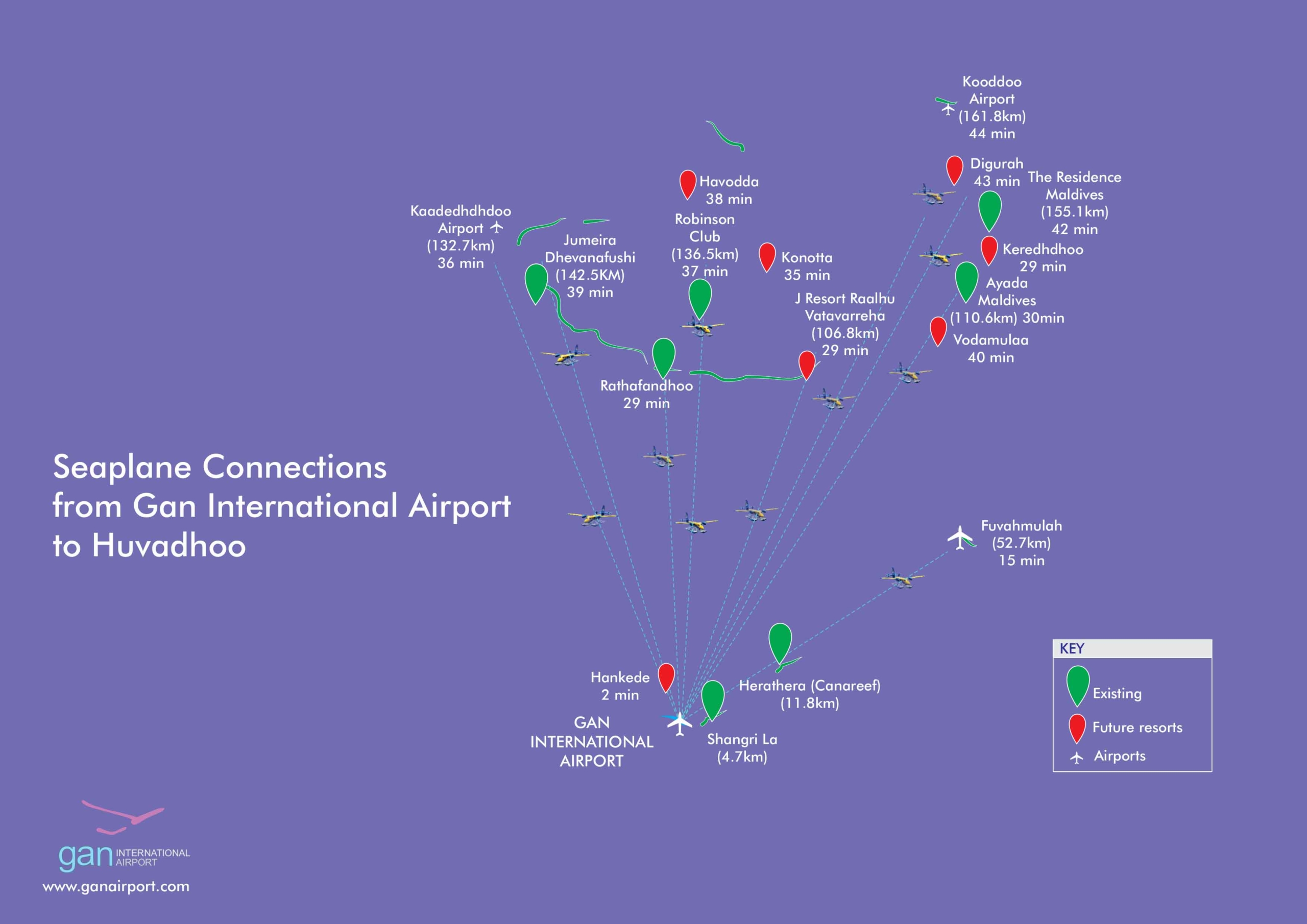 In addition to this, as decided previously, the building of a transit hotel at Dhoogas and the construction of another hotel has been included in the future development plan of the airport.
"We have already got Dhoogas to operate a transit hotel there, without the requirement to have to pay back the loan. The work will start very soon. At the moment we are waiting because it is currently being used as a Covid facility."
In addition to Dhoogas, it has been decided to build another hotel with a capacity of 300 beds between Equator Village and SouthLand restaurant. Gais told that work had already started necessary works to develop a yacht marina which includes the jetty also known as "Bodu Faalan" which was built and used by British.
Gais also said that they have started discussions to introduce cruise liner tourism to Addu. Explaining this he told that they have started studies to estimate the expenses required to expand and develop the jetty at Gan island so that 40-50 cruise ships coming Maldives annually can be docked in Addu.
"It is a promise of the current government to develop 17,000 tourist beds in Addu, Fuvahmulah and Huvadhoo. This is directly linked to the development of Addu airport and hence we are looking for a way to open the airport to more airlines. This area cannot be developed unless we achieve that."
During this development project of Addu airport the shares previously belonging to MACL and STO have been given to the government. Hence the current shares of Addu International Airport are as follows, 70 percent shares to the government and 30 percent shares to Casa Maldives of which the famous business man Champa Afeef owns a share.