Addu City, Maldives – Surely Kalhibih Drinks, located at the ocean side (Kalhibih) of Feydhoo, Addu City is not unfamiliar territory for many living in the city, and neither are Ali Hamdhaan and his team, who tirelessly serve amazing drinks day in and day out with nothing but a smile.
Who is Ali Hamdhaan?
Born and raised in Feydhoo, Ali Hamdhaan is the Assistant Bar Manager and Head Mixologist at the prestigious resort, Conrad Maldives Rangali Island, located in Dhaalu Atoll. He is also the only certified local liquid chef in the country, having have represented Maldives in various platforms nationally and internationally as well. In 2018, he won against Sri Lanka in the F&B Masters Regional Competition arranged by Hilton Colombo, in Sri Lanka.
What is Kalhibih Drinks?
One of the latest entrants into the creative entrepreneurial spark ignited in the city as Adduans who live out of the city flock back in due to Covid-19 pandemic, is Kalhibih Drinks – an outlet specializing in drinks of various tastes, feels and textures, created perfectly to quench the thirst of the soul. Apart from its drinks, the coolest part about the little outlet set up behind Hamdhaan's home is that the place, including the tables and benches, is entirely made up from recycled materials to fit a rustic theme. Not only this, but the roofless shack welcomes customers with cool breezes and shades from the trees in Hamdhaan's back yard, even on the hottest of days.
When questioned what lead him to set up the place, Hamdhaan revealed his big secret to inspiration – the Covid-19 pandemic. With resorts shut down, Hamdhaan was forced to come back home with lots of free time on his restless hands, but with little to do to quench his creative thirst. First he got some some of his friends to try out his drinks, which quickly gained popularity among them, ultimately leading him to start his home based business.
So, what's so special about Kalhibih Drinks?
Apart from just how cool the whole place is, Hamdhaan guarantees that this is the only place to find drinks that taste the way the ones in Kalhibih Drinks do, since all the drinks on the menu are solely his own creations. Hamdhaan introduced "Kalhibih Paree", which translates to "Kalhibih Fairy" as the signature drink of his local business, which also has drinks ranging from mocktails to smoothies and even coffee beverages. Speaking to Hamdhaan, we found out that he has taken a liking in experimenting with local ingredients such the yellow screw pine, from which he created the "Keyvah passion".
With all of the drinks available as take away, customers keep Hamdhaan and his team quite busy through out the day. Despite this, one thing that doesn't go unnoticed is the impeccable customer service offered by Hamdhaan and his team. If not him, someone from the Kalhibih Drinks team is sure to reach out to you during your time at the shack to see how the drink is and if everything is okay, with of course, always a smile. When we asked Hamdhaan about it, he told us that he tries his best to go out to the customers and talk to them himself, but if he's too busy prepping the drinks, it's someone from his team. He said that it's something that has rubbed off on him during his years of experience in the hospitality industry.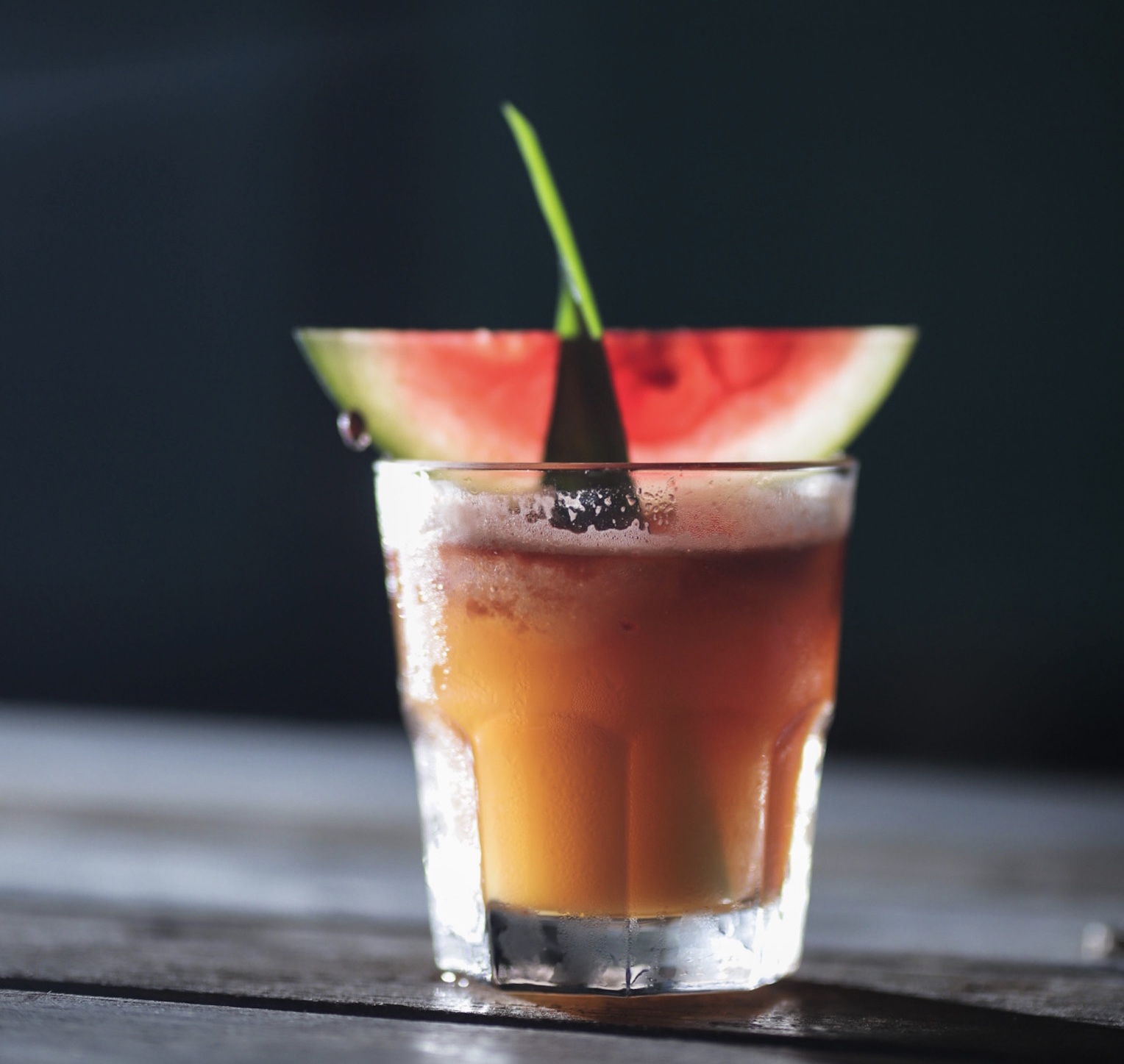 What are the biggest challenges in running this business?
Being the experimenter of different ingredients he is, Hamdhaan revealed that the biggest challenge he faces is the unavailability of the ingredients he requires. However, despite this, when such situations occur, he always improvises and handles the situation, he said. He also revealed how working out of his home kitchen to cater to the demands of multiple customers is a bit difficult, with his family also having to use the kitchen for household purposes. But to get on top of the issue, he has finished building a little space outside of the house, which is ready to officially open today.
While he talked about the difficulties he faces, Hamdhaan also took the opportunity to express his gratitude to his customers and his entire family and friends. "Sometimes it gets so busy that I can't even go out and check on the customers myself. But my family and the rest of the team are a huge help – from preparing the drinks to serving the customers" Hamdhaan said.
What is the future of Kalhibih Drinks?
Since Hamdhaan is still an employee of Conrad Maldives, he will definitely have to go back. But he reassured that he will be back soon, and said that he has not yet decided whether he will completely move back to Addu. However, good news for his customers, is that Hamdhaan has trained a protege who will prepare the drinks just as deliciously, in his stead. He assured that the quality will remain the same, saying that some drinks are prepared by the trainee even now.
Hamdhaan also revealed his plans for including quick bites and short snacks along with the drinks as well as plans to open a coffee shop in Feydhoo soon. According to him, the new place would open during the early months of 2021.
How can you find Kalhibih Drinks? 
Kalhibih Drinks is very active on social media, especially on Instagram (kalhibih.drinks) and on Facebook (kalhibih.drinks). If you's like to physically find the place, it's also available on Google Maps.