Male', Maldives – Criminal Court, on Saturday has ordered an individual accused of inflicting psychological, physical and sexual abuse against a woman and her three daughters, who were under the impression they were being subject to "Ruqya", a form of Islamic exorcism.
The 24-year-old main suspect in this particularly vile case joins the second individual arrested over the case, the woman's husband, who accused of both supporting and taking part in some of the abuse, to be remanded until the end of the ongoing Police investigation and the subsequent trial.
In an interview to local media outlet "Mihaaru", the 30-year-old woman revealed that the four females were confined to her husband's house in August with a man from the island that practiced Ruqya.
She stated that her husband told her that he believed her migraines to be the result of supernatural possession by 'jinn', supernatural creatures in Islamic theology.
The woman revealed that the Ruqya practitioner claimed that a jinn had possessed both her as and her 7 year old daughter. What followed was months of subjecting the family to multiple forms of abuse, which included abuse of a 7 year old girl.
The woman further disclosed that she was subjected to abuse so as to 'punish' the jinn as part of the exorcism, which included beatings, being treated as a slave, sleep and food deprivation.
She claimed that her remaining two daughters have suffered psychological damage as they were made to believe that their mother and sister were 'jinn'.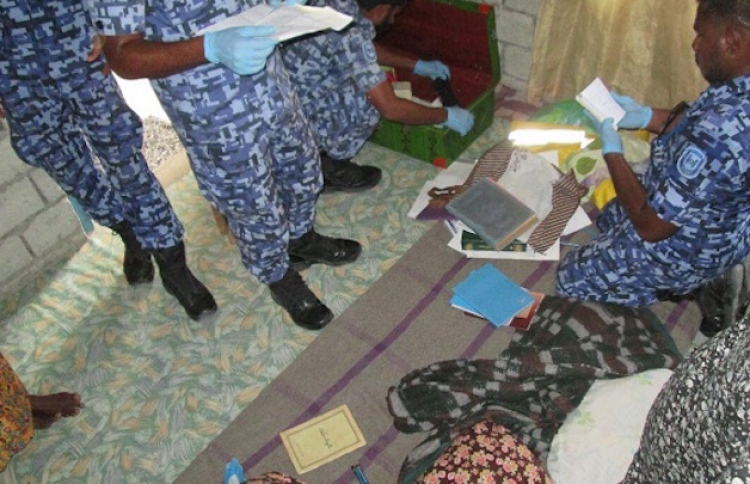 The police have revealed multiple cases of individuals practicing black magic (Sihr) and sorcery, some under the premise of Ruqyah. Some of these people tend to ask very large sums of money over several months of "treatment", with a report by Mihaaru revealing some asking for MVR100,000- MVR 70,000.
However, when cases of Rugya or Sihr related harassment, sexual abuse and scams are reported, Police tend to only confiscate suspected items used for the act and conclude their investigation there.
But after growing public pressure the Parliamentary Committee on Human Rights and Gender, in November, commenced an investigation into the sexual abuse perpetrated against the woman and her three daughters.
Many have called for the regulation of Rugya services, such as the policy on Rugya in Saudi Arabia, to prevent unqualified scam artists taking advantage of unsuspecting families, mainly in atolls of mid-Maldives. Yet there have been no statements by the government saying that they have any plans to implement such a policy.