Malé, Maldives – Popular diving spot "Victory Wreck", located southwest of Velana International Airport, has been decided to be declared as a protected area by the Maldivian Government.
The President's Office has disclosed that this was decided by President Ibrahim Mohamed Solih protect the area last Tuesday, after a discussion with his cabinet of Ministers. This reasoning behind this move has been revealed to be because an artificial reef has formed in the area, with the wreck now rich with various marine life.
The Victory Wreck is an 262ft-long cargo ship that sank in 1981 in Malé Atoll . It sank while on its way from Singapore carrying goods for the resorts on the islands. Since then, the site has been a dive site globally, amassing a number of visitors every year.
This wreck, along with the K.Kaashidhoo wetland area has been decided to be declared as protected areas during last Tuesday's cabinet meeting, according to the President's Office.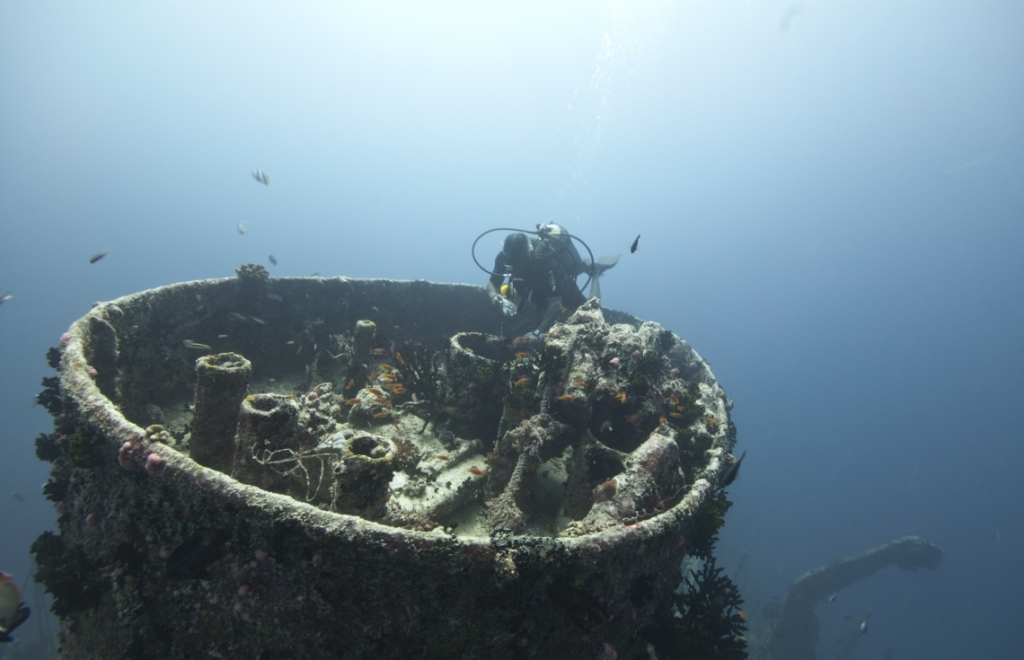 The wreck suffered various damages during the construction of the Sinamale' bridge construction commenced in 2016, two wings of the wreck's wheelhouse were completely destroyed and large sections of the three decks below the wheelhouse were damaged, including the captain's cabin, caused most likely from anchoring according to projectware.org.
This led to the Chinese workers working on the bridge were made aware of the wreck by the Ministry of Housing and Infrastructure, and while no additional structural damage was seen on the wreck when the site reopened for divers in 2019, mud plummeting on the sunken ship had affected marine life on the wreck as sedimentation settled on corals and suffocated them.
The coral and marine life has seemingly recovered, at least to some extent judging by today's statement by the President's office, so much so the area has been protected by the Environmental Protection and Preservation Act – which has previously been used to protect areas with important biodiversity and endangered ecosystems.
The Maldive Victory was a 100m long cargo ship that hit the reef of Hulhule Island on February, 12th 1981. The 1420-ton vessel, which contained mainly products for the capital and resorts, sank the next day.
The wreck now lies parallel to the airport runway at a depth of 35m on a sandy bottom. It is partially covered with corals. Its highest central mast is 12 meters deep, and a rope with a buoy at the surface is attached to it. Due to the strong currents it encounters, the wreck is accessible only for experienced divers, who can explore the deck, the cabins and wheelhouse.