Male', Maldives – As of the 6th week of 2021, the Maldivian government spent a cumulative MVR 1482.2 million towards Covid-19 Total Health & Social Spending. 
Week by week spending stood at MVR57.3 million, the highest compared to previous weeks according to the Ministry of Health. This figure is a 4.1% rise from the week before. Such an increase in spending is due to the rise in Covid-19 cases in the third wave. 
The total economic response spending (ERP) amounted to a cumulative MVR 1530.2 million, a 0.6% increase compared to the fifth week of 2021. Except for the MVR 9.5 million spent on the Income Support Allowance Scheme, no other ERP Schemes received disbursements.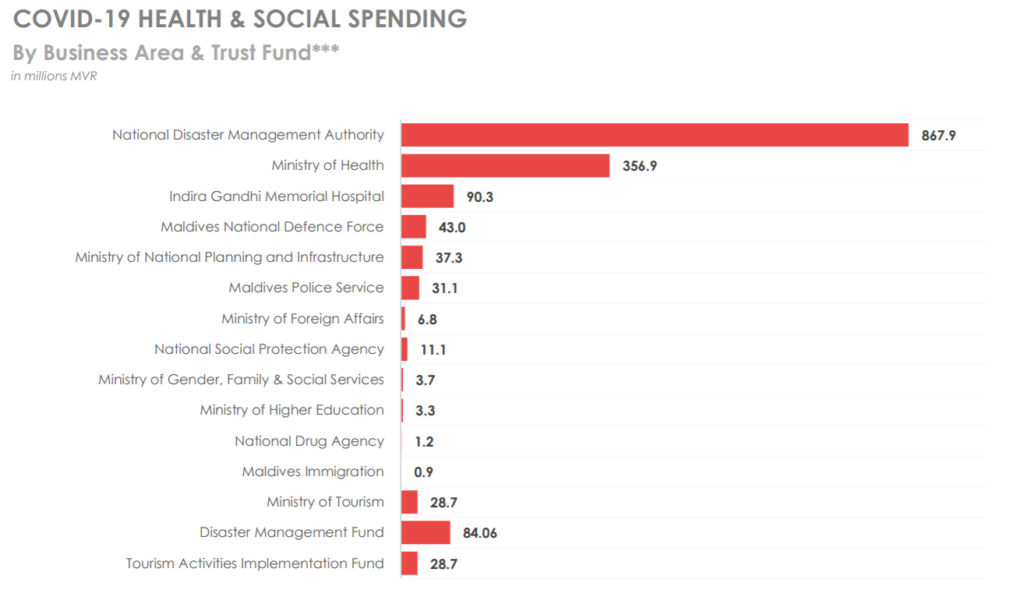 As of 11th February 2021, National Disaster Management Authority recorded the highest spending levels at MVR 867.9 million during the Covid-19 Pandemic. The Ministry of Health follows second in spending as it incurred MVR 356.9 million. Indira Gandhi Memorial Hospital spent MVR 90.3 million in Covid-19 spending. For all 3 business areas and trust funds, the greatest expenditure was on Supplies and Requisites for Service Provision. The supplies and requisites for service provision is high due to the fact that this category primarily includes spending on medical consumables, test kits and Personal Protective Equipment (PPE). With the rapid rise in Covid-19 cases, a large number of the population is being tested, treated and vaccinated indicating a rise in the utilization of these medical goods. 
As of 11th February 2021, over 18,000 individuals have been assisted through income allowance by discounting water bills and electricity bills. The government has disbursed MVR 284.1 million as Income Allowance.
Under the COVID-19 Recovery Loan Scheme, as of 11th February 2021, MVR 585.9 million has been disbursed by BML and MVR 355.5 million has been disbursed by SDFC.