Malé, Maldives – Maldives Police Service has revealed the identities of the two people arrested over the terror attack against Former President and Current Speaker of the Parliament Mohamed Nasheed.
The two people as revealed by Assistant Commissioner of Police Mohamed Riyaz, are :
Mujaaz Ahmed, 21, Ma. Feyruge, Malé
Thahumeen Ahmed, 32, Folheymaage, GA.Kondey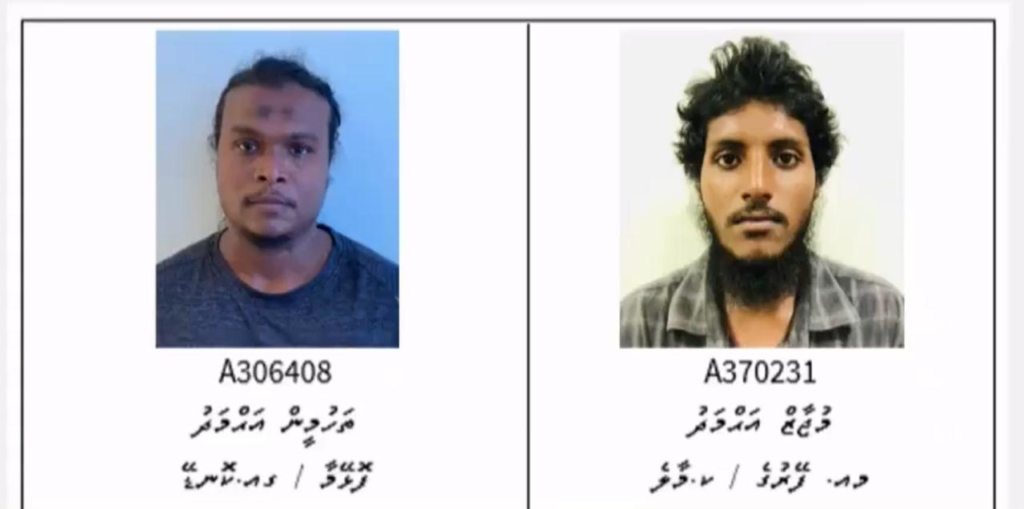 In addition to this, Police had also revealed CCTV footage of the blast which had injured the Speaker of Parliament, Mohamed Nasheed.
According to Police, the owner of the motorcycle which was used in the blast belongs to Thahumeen Ahmed and the number plate of it had been changed. In addition to this, they had also tried to scratch the engine number of the vehicle according to police.
While police had revealed the identity of the two arrested people, they also released pictures of a third person whom is the main suspect of the blast according to police.
This comes while Commissioner of Police, Mohamed Hameed revealed yesterday that while no information was received from police intelligence prior but that they had four persons of interest under surveillance.
CP Hameed also revealed that they were in discussions with Prosecutor Generals Office and that necessary actions against these four persons of interest would be taken accordingly. He also added that they would closely monitor these individuals and would not allow them to leave the country. 
While Maldives Police has come under public scrutiny after stating that they had not gotten any prior intelligence reports on the matter, CP Hameed told that there was major room for improvement within the state to share information and the an 'autopsy' in to why police had not received intelligence regarding such an attack would be carried out.
CP Hameed also revealed that a total of five people were injured in the attack, including Nasheed, three bodyguards and a British tourist. Hameed said that 450 officers were involved in the investigations and urged eyewitnesses to share information via a police hotline.
During a press conference held last night, Chief of Defence Force, Major General Abdulla Shamaal told that the IED was an improvised one which was controlled remotely and set off as Speaker Nasheed was about to get in to his car on May 6, 2021. 
He also added that the IED was several times stronger than the one which was set off at Sultan Park in 2007 and also revealed that last nights one had ball bearings inside as shrapnel to increase the damage caused. 
Major General Abdulla Shamaal also added that MNDF had requested relevant authorities to remove the motorcycles being part at Neelofaru Road where Speaker Nasheed's home is located amid security assessments done by MNDF.
He also told that MNDF leadership believed that there was a hand of any MNDF personnel involved in the attack and that no such information was received so far as well. Chief Shamaal also commended the response of the Special Protection Group (SPG) personnel who were giving protection to Speaker Nasheed following the blast last night.
Chief Shamaal told that intelligence information is being received constantly and is dynamic and that they continuously act on intelligence inputs in making decisions. He further added that the procedures, training and education of the armed forces have been revised and capacity development has been increased drastically in order to accommodate such changing conditions in which they had to work.
The explosion which went off around 20:20 on May 6, 2021 left Speaker of Parliament, Mohamed Nasheed injured while he was getting in to his car near his house, G. Kenereege, Malé City. In addition to him, five more people were also reported to be injured from the explosion.
Speaking in an address to the nation following the incident on May 6, 2021, President Solih told that the perpetrators would face the full force of the law and that the government would take every necessary measure to ensure the safety and security of the people.