HDh. Atoll, Maldives – 9 new cases of Covid-19 have been recorded from HDh. Atoll.
Kulhudhufushi Regional Hospital reported that 9 new positive cases of Covid-19 were recorded from the Atoll and 13 additional recoveries were recorded within the past two days. The 9 new cases include 3 cases from Kulhudhufushi, 3 cases from Hanimaadhoo, 2 cases from Makunudhoo and 1 case from Neykurendhoo.
This brings the total active cases in the Atoll to 103. This includes 31 quarantined individuals, 49 cases from contact tracing, 8 symptomatic cases after consultation to flu clinic as well as 15 random samples.
The newly found cases were among the 277 samples were collected between 18:00 of 8th June to 18:00 of 10th June.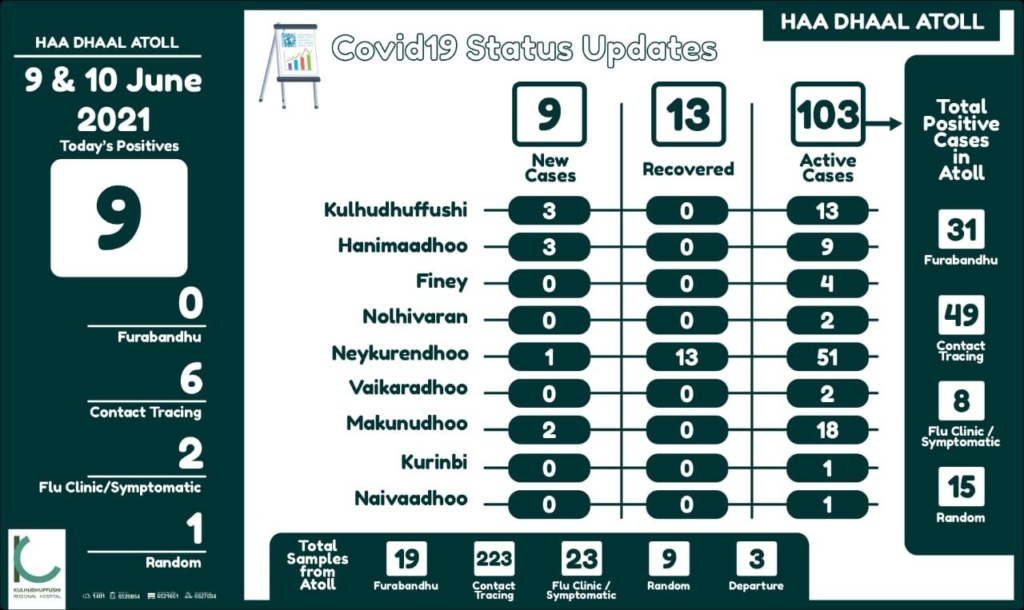 Maldives recorded 295 new cases of Covid-19 yesterday with 138 of them being from Malé and 146 from inhabited islands along with 11 new cases from operational resorts.
Maldives is currently going through the worst wave of Covid-19 to have hit the country since the pandemic started. Although the daily cases are gradually decreasing, health officials advise the public to remain at home and abide by preventive guidelines to minimize the spread of the disease.