Malé, Maldives — The Cheif Magistrate of Lh. Atoll judicial sector, Mohamed Sodiq described the situation of Maldives' magistrate courts by saying that the magistrate courts are still in sailing boats while the other administrations are using two engine boats.
The atoll courts are lacking in infrastructure, human resources and technology.
While Magistrates were given opportunity to discuss the difficulties they were facing at work during yesterday's annual judges meeting that was held virtually by the judges committee and the Department of Judicial Administration (DJA), a boat full of complaints were made by magistrates of almost all atolls.
One of the major complaint was that the magistrate courts have not been properly developed in years although the technology and equipment has enhanced a lot over the past years. A Magistrate as a reference said that the door of their magistrate court has gotten so weak and old that it looks like it would collapse at any second.
While the government encouraged all courts to use virtual methods to hold hearings due to the Covid-19 pandemic, Magistrates complained that most of the magistrate courts are unable to do that much as well as they do not have ways to conduct proper video and audio conferencing. On top of that, Magistrates stated that the slow internet speed makes it even more difficult to hold hearings virtually where they have to conference with people from different atolls at times.
Court is at a condition where the people who we serve are even mocking it.

Chief Magistrate of Th. Atoll judicial sector, Hassan Zaheen.
To show proof of his statements, Chief Magistrate of Th. Atoll judicial sector, Hassan Zaheen showed pictures of the magistrate court which looks no better than a small store room.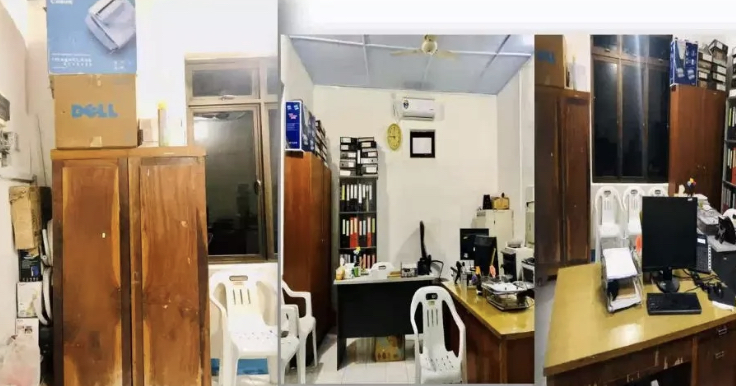 Along with this, Chief Magistrate of Th. Atoll judicial sector, Hassan Zaheen has stated that five courts in Th. atoll does not have bathrooms installed in them.
Chief Magistrate of GA. Atoll Judicial Sector, Ibrahim Ihusaan noted that majority of the magistrate courts are temporary buildings without the proper facilities that are on rent. While facilities are already low in the court, Ihusaan stated that there aren't enough employees in the courts as well.
Ga. Atoll and Fuvahmulah do not have a court administrator. That work is done by either a legal officer or a computer technician.

Chief Magistrate of GA. Atoll Judicial Sector, Ibrahim Ihusaan.
At the very least, Ihusaan stated that the court does not even have a mobile phone number. As most of the citizens don't use emails, Ihusaan stated that they have to send reminders through SMS and the court has to use other social media methods or their own number at times since the court does not have a phone.
During the meeting, several magistrates also noted that an island consisting of over 650 people has only three employees at the courts; one support staff and two administrative employees.
The Chief Judiciary Administrator, Aishath Rizna in charge of the courts responded to the complaints of the magistrates assured hope to the magistrates and stated that they will find solutions for the difficulties that are faced in the courts.
The meeting ended with a new hope for the magistrates who wish to see developed magistrate courts with better facilities in the near future.