Malé, Maldives —The Government and the two communication companies of Maldives have an understanding, to refrain from giving any new telecommunications companies license to operate in the Maldives for the upcoming five years, for the two existing telcos to honour the agreement to provide faster, affordable internet.
Regarding a request under the right to information by System Engineer and Security Researcher, Ahmed Mohamed Didi, CAM informed that they did not make an agreement with the communication companies to reduce and make certain changes to the service in the upcoming months.
However, Ahmed Mohamed Didi stated that the Government has an "understanding" with the Internet Service Providers (ISP) and has had several discussions with the service providers and IT members to fulfil the Government's vow to reduce internet prices.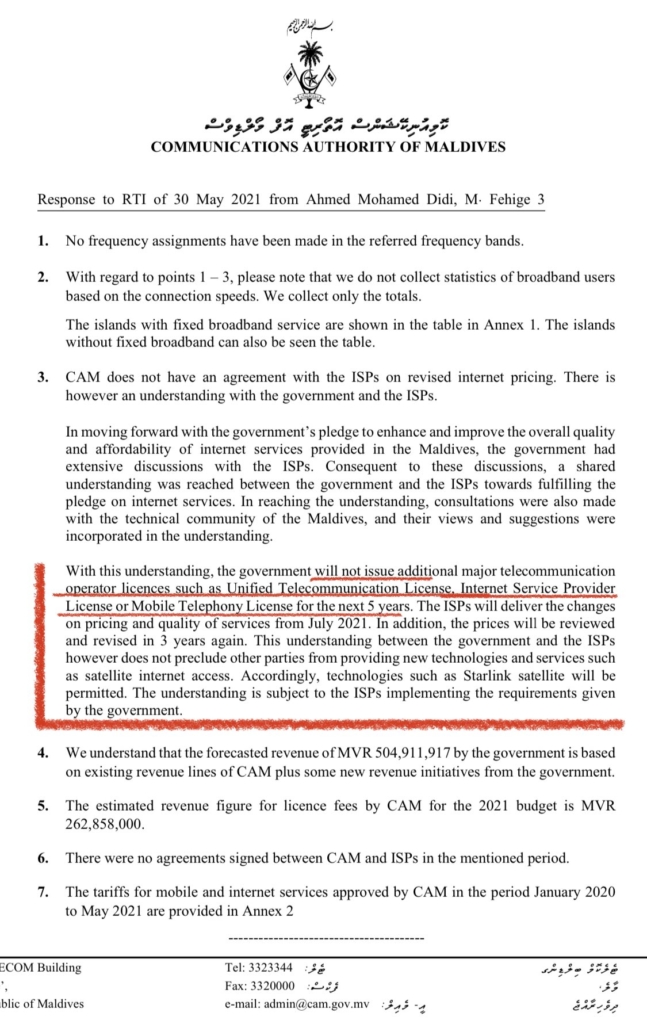 The internet prices are expected to decrease within the next month along with a positive change in network quality until they are reviewed once again in the upcoming three years, as agreed on the "understanding" between the Government and communication companies. This "understanding" only stands valid if the requested internet prices and quality of the government remain unchanged for the upcoming five years.
CAM however assured that although the "understanding" agrees that new license cannot be given to large operators, a service provider who intends to bring new services using technologies that are currently not present in Maldives, such as Satellite Internet Service, will not face any issue or barriers in establishing their service.
Tech. Minister Shauna said on May 27 that the Maldives government has no intention to block SpaceX's high-speed internet service Starlink once it becomes available in the region after social media raised concerns following the reduced internet prices announcement with some alleging that the government has agreed to block additional service providers entry to the Maldives for the next 5 years.
While reducing the price of internet was one of the most important vows made by the President Ibrahim Mohamed Solih when he came into power, even after three years of his presidency, no changes were seen in the prices not the quality, this was quickly followed by much criticism from several citizens towards the government.
The government later presented the following as new prices and quality of the internet.
30GB at the speed of 5MBPS for MVR 250 (2MBPS as throttle speed).
100GB at the speed of 15MBPS for MVR 500 (5MBPS as throttle speed).
200GB at the speed of 25MBPS for MVR 750 (5MBPS as throttle speed).
The throttle speeds for broadband cannot be lower than 2Mbps in the Maldives. In addition, for packages above MVR 300, the throttle speed is not to decrease below 5Mbps.
Residential internet package prices are to decrease by 28 to 30 percent starting July 1 while mobile data changes are set to go into effect from October 1 onwards.