Malé, Maldives – President Ibrahim Mohamed Solih has stated that the courage of the Maldivian armed forces in the face of the brutal assault on the nation has made it possible for us to raise our flag today as an independent state.
The President said this on the occasion of the Maldives Victory Day, celebrated November 3 each year. President Solih emphasised in this statement that we must always ensure that the interests of the nation and the holy tenets of our faith are at the forefront of our priorities. Further, he stated that Victory Day stands as a reminder of the importance of constantly protecting and maintaining national interests above the interests of the individual.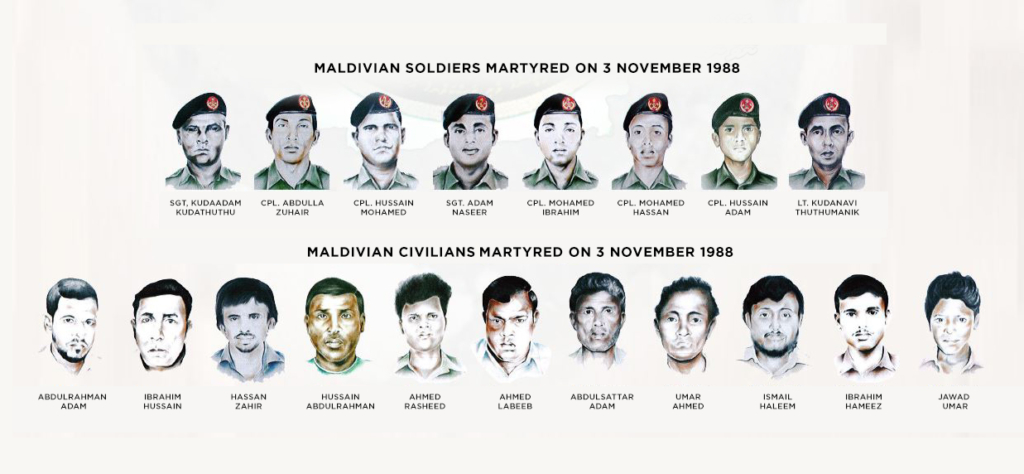 In his statement, President Solih honoured the valour and heroism of martyred Maldivians who sacrificed their lives to protect the Maldives' sovereignty and independence against armed foreign troops.
Future generations should strive to embody the traits displayed by our brave soldiers on that day and remember them in our prayers.
Speaking further, President Solih stated that the terrorist attack on the Maldives on November 3, 1988, was averted with the intrepid determination of Maldivian soldiers. He additionally underscored that the international community had come to the Maldives' aid, extending gratitude to neighbouring India for their assistance to the Maldives on that day.
The President concluded his written address to the public underlining that emerging threats in the developing world can only be resisted by the nation standing together as one. He encouraged the current and future generations to take our brave forefathers, such as Shaheed (Martyr) Corporal Hussain Adam and other martyrs of the November 3 attack, as role models to stand against colonialist ideologies and attacks on our religion or sovereignty.
In addition to the President, the Speaker of the Maldives Parliament Mohamed Nasheed, Vice President Faisal Naseem and opposition leaders have shared messages in remembrance of the Victory Day.