Addu City, Maldives — Additional five suspects have been remanded regarding the major counter-narcotics operation in Addu City in which 98.6Kgs of drugs was seized.
According to the Maldives Police Service, the court has remanded three additional people of the populous island of Addu, Hithadhoo. These three suspects are Hassan Amir, 25, Hoodh Latheef, 24 and Hussain Simah, 27.
While Hoodh was remanded on October 07 and was remanded pending the outcome of his trial on the same day. The remaining two suspects remand was ordered on Friday.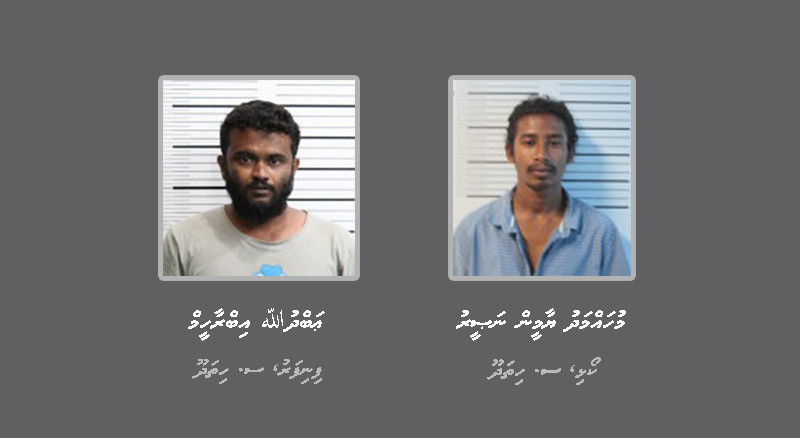 Furthermore, including the two additional suspects, Abdulla Ibrahim, 33 and Mohamed Yameen Naseer, 23, a total of five suspects have been remanded for the remainder of their trials.
Overall, a total of 16 suspects have been taken into custody since the operation began on October 1. However, the police had recently released eight out of the sixteen suspects as they said that it was unnecessary to keep those suspects in custody for further investigation.
One of the eight suspects that were recently released included Shamweel Gasim, famously known as a former footballer of the National team of Maldives who has taken up sports fishing after his retirement from national level football.
Up to date, the Maldives Police Service has confiscated a total of 98.6 kilograms of narcotics, including MDMA, and amphetamines and heroin in the major counter-narcotics operation ongoing in Addu City. Along with the narcotics, a total of 14 individuals, between the ages 23 and 24 have been arrested regarding the case.
The drug operation in Addu City began on the 1st of October, and is currently ongoing in collaboration with officers from the Drug Enforcement Department (DED), Drugs Intelligence Unit, Divisional Intelligence Department, Marine Police, and South Police Division to find the people who are illegally smuggling drugs into Maldives.