The Covid-19 pandemic has badly shaken what was thought to be some of the best healthcare systems in the world, pointing out the many bottlenecks that have existed for years and forcing administrations to act quickly, reinforcing existing facilities and procedures and procuring modern equipment.
Governments that failed to do this saw their healthcare workers overwhelmed with some contracting the disease, patients with chronic diseases with years of improvement become worse after months of missed treatment, emergency patients dying as ICU's are constantly at zero capacity.
While the Maldives has been fortunate enough to not be hit as hard as some other countries, Dr. Nazla Musthafa, outlining the currently delicate healthcare system in the country, said that Health facilities in Maldives have faced great difficulties since the pandemic started, and said that due to difficulties travelling to Male' for treatment, local health centers in islands have just been barely able to treat patients.
Surgeries never attempted before have been successfully completed throughout the Maldives.
The local health centers and hospitals she mentioned have performed many previously unattempted procedures successfully, that would have otherwise been performed in Male' or at overseas hospitals if not for travel restrictions.
Some examples of these are; the submandibular sialoadenectomy surgery Shaviyani Atoll Hospital, the first maxillofacial surgery performed in Addu at Addu Equatorial Hospital (AEH), a neurosurgery, hip replacement surgery and joint replacement surgeries have also been successfully performed at AEH.
Addu Equatorial Hospital (AEH) announced on October 5, 2020 that they have carried out five successful spine surgeries at the hospital in a single day.
The surgeries were lead by Dr Yoosuf Shaan from IGMH, Dr. Hazem and Dr Mohamed Munshid's team and these cases included referals from nearby Fuvahmulah and Thinadhoo. The hospital has also informed that they were preparing to do arthroplasty surgeries at the hospital as well.
The first spine surgery at AEH was carried out in April 14 of this year and the first neurosurgery was carried out on a 62 year old at the hospital with the assistance of ADK Hospitals neurosurgery team in September of this year.
More recently, in December, a successful total hip replacement surgery was done at Addu Equatorial Hospital
The hospital stated that this the first time such a hip replacement surgery was performed in Addu City, adding that the surgery was a success and the patient has made a successful recovery after the operation.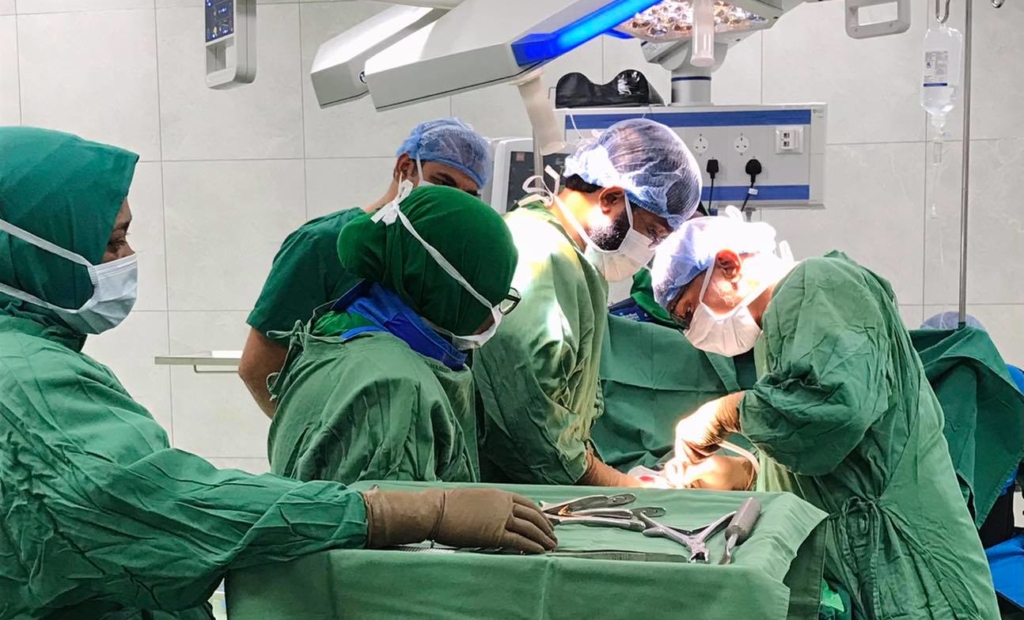 The Covid situation in Maldives has been relatively controlled largely due to assistance from multiple international organizations who have donated millions, along with equipment that has become invaluable due the pandemic.
The Word Health Organization, European Union, World Bank, UNDP and numerous governments have provided Maldives with significant aid during the pandemic. With donations of masks, personal protection equipment (PPE) such hazmat suits, N95 masks, surgical gowns, surgical masks, goggles, face shields going a long way in protecting medical staff. Donations of test kits, laboratory and ICU equipment have been of great assistance to various hospitals in the country.
The Maldivian government received more than 520 million in aid and concessional loans by October 2020, according to the Ministry of Finance.
The government has also invested a lot more into the health sector, and while some policies and facilities are planned to be temporary, numerous changes are here to stay.
The Ministry of Finance has revealed that as at December 17 2020, MVR 2.72 Billion was spent on Covid-19 expenditure in Maldives, with the government spending a lot of money on supplying ventilators and developing quarantine/isolation facilities. According to the ministry, till December 17, they had spent MVR 198.7 million for this purpose.
Multiple health infrastructure projects, are in progress or scheduled, such as a Covid facility in Thinadhoo , regional ICU facilities, a clinical building in Hulhumale' among many others.
Development efforts resulted in Lhaviyani Atoll Hospital, in December, commenced chemotherapy services, a first for any health facility outside of the capital city or greater Male' region.
Many previously neglected health centers have received equipment due to the pandemic. One such example is Kulhudhuffushi Regional Hospital, located in the northern region of Maldives, that received their first incubator system in 15 years.
The hospital released the information marking the World's Prematurity Day of the year, stating that the hospital is happy that the facility is now available for the public.
With this, the number of pregnant women and mothers who need to travel with their newborns all the way to Male' is expected to decrease, as it was also revealed that the hospital's NICU has also received three state of the art baby warmers and 2 neonatal ventilators.
Looking at the recovering tourism sector, new guidelines have made it necessary for nurses and health professionals to be present on resort islands. Numerous resorts have opened up positions for resort doctors and nurses, and have contributed to augmenting local healthcare networks.
While numerous Heath Protection Agency (HPA) guidelines are to go away once Covid does, health infrastructure investments in resorts and by guesthouses means that good healthcare will be available in many small islands of Maldives that would not have such facilities otherwise.
Most resorts now have isolation and quarantine facilities, along with nurses and a doctor on the island.
New guidelines state guesthouses that are run in populated islands now have greatly improved healthcare systems, as permission to reopen will only be given to those guesthouses that are in accordance with the guidelines and requirements which have been published by the HPA.
The guidelines mandate that the total number of isolation rooms island would be based on the total number of beds in that specific island, and specified that there must be a separate isolation room for each guesthouse. In addition to this, separate isolation rooms should be arranged for people who are mildly positive and the contacts of such people according to this guideline.
The guideline also states that the islands with operating guesthouses must have a special transport vehicle for transporting positive people to facilities as well as have a flu clinic to treat symptomatic people. Furthermore, every Acute Respiratory Infection case consulted at the flu clinic must be reported to HPA and if any symptoms are seen, then the person must be tested for Covid-19. The cost for testing and treatment of the tourists is to be covered on their own.
Many facilities around the Maldives have received essential equipment, effectively decentralizing health care.
Flu Clinics, isolation facilities and various upgrades to existing hospitals have all been obtained during the pandemic. Most recently, vaccine storage facilities with specialized freezers that accommodate the new vaccines according to the regulations given by WHO and UNICEF are to be established in atolls and in the capital Male' city.
This not only ensures numerous regions in the Maldives are ready for covid vaccination, but allows for more facilities to offer vaccination for other diseases and to store any newly developed vaccines that may have sub zero storage requirements.
While it is undeniable that Covid-19 has caused significantly more damage, the advancements made in health sectors around the globe are very apparent. The sector must develop even faster to keep well ahead of any other potential pandemic, to successfully battle the increasingly worrying problem of antibiotic resistant diseases and to find new treatment for terminal illnesses, all while ensuring emergency services are ready and well equipped.